RBG Holdings: Trading & Market Guidance
RBG Holdings plc (AIM: RBGP), the professional services group, today publishes an update on trading, alongside the reinstatement of guidance for the expected financial performance of the Group for the full year to 31 December 2020.
Following the publication of the Group's interim results for six months to 30 June 2020 on 16 September 2020, the Group's law firm, Rosenblatt Limited ("RBL") has continued to trade well with case value and volumes remaining significantly ahead year-on-year.
As reported at the time of the interim results, this positive performance was partially offset by the lack of litigation investment sales in the Group's newly formed litigation finance business, LionFish Litigation Finance (UK) Limited ("LionFish"). There was also a lower than expected contribution from Convex Capital Limited ("Convex Capital"), due to Covid-19. The pandemic resulted in a substantial portion of Convex Capital's M&A pipeline being delayed until the second half of FY20.
The Board is now able to report that Convex Capital has since supported the sale of Nutravet, a fast-growing animal healthcare company, for which it received a fee in excess of £1.2 million. Furthermore, LionFish has now concluded the realisation of two of its investment assets for a total of £1.1 million. The Board remain encouraged by the growing pipeline of opportunities across all divisions.
The completion of the transaction by Convex Capital and the realisation of litigation investments by LionFish as well as having completed nine months of trading gives the Board improved visibility of the financial performance of the Group for the year as a whole. Accordingly, the Board is in a position to reinstate guidance for the year to 31 December 2020. Based on management's current forecasts, the Board now expects Group revenue and realised gains to be between £24 million and £26 million (2019: £23.7 million).
Given the continuing uncertainty over Covid-19 and its possible impact on the higher-margin businesses within the Group, the Board will make a decision regarding the payment of an interim dividend when it has further visibility on the year-end position.
RGB Holdings Investor Videos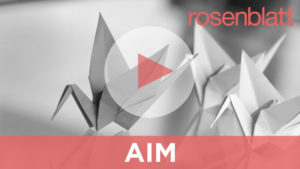 Click here to view RGB Holdings Investor Videos