Altus Strategies: Drilling Underway at Lakanfla Gold Project, Western Mali
Altus Strategies Plc (AIM: ALS, TSX-V: ALTS, OTCQX: ALTUF) announces the commencement of a 3,800m drilling programme at its Lakanfla gold project ("Lakanfla" or the "Project") located in western Mali. The programme is being funded by Marvel Gold Limited (ASX: MVL) ("Marvel") under the joint venture ("JV") with Altus.
Highlights:
JV-financed 3,800m drill programme underway at the Lakanfla project in western Mali
Targeting a karst-style target analogous to Yatela and the FE3 / FE4 deposits at Sadiola
Lakanfla hosts extensive hard rock artisanal gold workings
Historic drilling has returned high grade intersections, including (not true widths of interval):

5.1 g/t Au over 26m from 32m
4.3 g/t Au over 18m from 34m

Passive seismic geophysical survey across karst-style targets to commence shortly
Marvel is earning an initial 33% interest in the Project under the JV
Altus holds a 2.5% Net Smelter Return ("NSR") gold royalty on Lakanfla
Steven Poulton, Chief Executive of Altus, commented:
"We are excited to announce the commencement of a 3,800m drilling programme at our Lakanfla gold project in western Mali. The drilling is targeting a karst-style geological model, defined by an approximate 7km long gravity-low that surrounds a granite intrusion. Lakanfla hosts extensive hard rock artisanal gold workings and historic shallow drilling has intersected up to 5.1 g/t Au over 26m. The karst-style model represents an exciting target at Lakanfla and is analogous to certain pits at Sadiola and the former Yatela gold mine, located 6km and 30km to the northwest respectively.
 "The programme is being funded by our ASX-listed JV partner Marvel Gold, which is earning an initial 33% interest in the Project. We look forward to updating shareholders on the results from the drilling in due course."
Lakanfla Project: Drilling Programme
The planned 18-hole programme will total 3,800m and employ a multipurpose drill rig capable of Reverse Circulation ("RC") and Diamond Drilling ("DD"). RC drilling is expected to better handle the variable lithological and ground conditions in the karst target areas, resulting in the maximum amount of sample being collected. The programme will test four karst-style gravity-low targets which surround a major granitic intrusion.
Passive Seismic Programme
Marvel will also be undertaking passive seismic surveys over the gravity lows at Lakanfla. These surveys are used to identify density contrasts between various lithologies up to 700m below the surface. Marvel believes the density contrast between dissolved carbonates and fresh rock can be used to model the base of the gravity lows in three dimensions. This data can then be calibrated against the drill results to aid target generation for follow-up drilling.
 Summary of Joint Venture with Marvel Gold
Marvel have the right to earn up to an 80% interest in Lakanfla by sole funding four stages of exploration, culminating in a definitive feasibility study, and by making certain cash (or cash plus Marvel equity) payments to Altus. Thereafter, Altus has the right to co-fund or dilute its interest in the Project. Altus will retain a 2.5% NSR royalty on the Project and Marvel have the right to reduce the NSR to 1.0% for a payment to Altus of between US$9.99M and US$15.00M (subject to the size of the resource at Lakanfla).
 The following figures have been prepared and relate to the disclosures in this announcement and are visible in the version of this announcement on the Company's website (www.altus-strategies.com) or in PDF format by following this link: https://altus-strategies.com/site/assets/files/4927/altus_nr_-_lkf_drilling_06_oct_2020.pdf
Location of Lakanfla and Altus' other projects in Mali is shown in Figure 1.

Location of Lakanfla with respect to the Sadiola and Yatela deposits is shown in Figure 2.
Plan of the Lakanfla drilling programme is shown in Figure 3.
Schematic cross-section of Lakanfla geology and karst model

 is shown in Figure 4.
Lakanfla Project: Location
The 24km2 Lakanfla gold project is located 5km east of the Company's Diba ('Korali Sud') oxide gold project and approximately 6.5km southeast of the karst-type FE3 and FE4 open pits of the multi-million ounce Sadiola gold mine and 30km southeast of the former multi-million ounce Yatela karst-type mine. Lakanfla is bounded by the Sadiola permit area on its north, west and southern boundaries. Sadiola and Yatela are being acquired by Allied Mining from the existing operators Anglogold Ashanti (JSE: ANG, NYSE: AU and ASX: AGG) and IAMGOLD Corporation (TSX: IMG & NYSE: IAG). Mineralisation hosted on these properties is not necessarily indicative of mineralisation hosted at Lakanfla.
Lakanfla Project: Geology
Lakanfla hosts a consistent series of geophysical lows, as defined by a ground gravity survey completed in 2014. The lows are up to 0.5km wide and have a total strike length of approximately 4km. They are hosted within marbleised lithologies surrounding a granodiorite intrusion and its associated hydrothermal aureole. Surface sagging features, considered to be a result of the formation of dissolution voids at depth, have been mapped as being more than 100m long in places and these are also often coincident with the gravity lows. A number of the gravity lows are adjacent to N-S trending artisanal gold workings and are coincident with apparent gradient array IP resistivity lows. Interpretation of the residual IP anomalies has defined a series of intersecting regional and local shear structures, which are considered to have potentially promoted the karst formation process. The gravity lows and lithological trends may indicate areas of deep weathering of altered calcareous sediments, dissolution collapse and potential supergene gold deposition.
None of the priority gravity low targets defined by Altus have been systematically drill tested to date. Of the historical drilling that has been undertaken at Lakanfla, 35 holes coincide with the priority targets. However, the majority of these holes were drilled were no deeper than 75m vertical depth. One was drilled deep enough to test the karst potential, attaining a vertical depth of 161m. Critically, this drill hole (04KDD-08) was located on the margin of a gravity low, reached the target depth and terminated in loosely consolidated sand (from 165m to 171m), having also passed through voids and unconsolidated material. The Company considers that this hole provides strong evidence for the presence of a potential karst-type system.
Karst style deposits are known to form from the dissolution and collapse of carbonate (limestone) rocks. The weathering of these rocks, if originally mineralised with low grade gold and sulphides, can result in the precipitation of a higher grade 'supergene' and potentially economic gold mineralised residuum, above a more resistant basal layer. The dissolution of the limestones often means such deposits are associated with geophysical gravity lows, resulting from the formation of voids at depth. They may also contain sands and other more recent geological materials occurring unconformably in the geological sequence. These materials will have either been windblown, or collapsed into the depression created during the karstification (dissolution) process.
We recently interview Altus CEO Steve Poulton about the company's recent progress and forward looking strategy.
Altus investor videos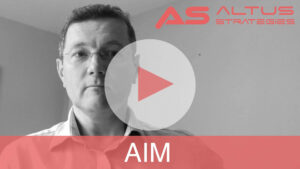 Click here to view LON: ALS videos