iomart Group: Pre-close Trading Update
iomart Group plc (AIM:IOM), the cloud computing company, is pleased to provide its pre-close trading update for the six months ended 30 September 2020, ahead of the announcement of its half yearly results.
Group trading performance
iomart's business model has stood it in good stead over an unprecedented six-month period in which our staff, customers and operations have had to adjust to the impact of Covid-19. Despite the global slowdown in corporate activity our business has performed well, with growth from existing customers in line with our expectations for the period. The Board anticipates reporting revenue growth of approximately 2% for the six months, to over £56m (H1 FY20: £55.1m) and steady levels of adjusted EBITDA, at approximately £21m (H1 FY20: £21.8m). These results reflect greater uptake of our managed private cloud solutions which, while at slightly lower margins compared to our legacy self-managed infrastructure, remain sector leading; the timing of billing for certain orders; and only a partial benefit from efficiency adjustments to our cost base made in the period.
The Group's cash generation has been strong and ahead of the Board's expectations, with the period end cash position increasing to approximately £19m at 30 September 2020 (31 March 2020: £15.5m).
As announced on 9 September 2020, Reece Donovan has now assumed the role of CEO following the retirement of Angus MacSween, who remains on the Board as Non-Executive Director.
Outlook
We believe the diversity and limited concentration of our customer base, along with the critical web centric services we provide, will continue to shelter us from the worst of the expected economic pressures over the coming period. Our recently strengthened sales &marketing operations gives us a stronger foundation to accelerate growth once companies regain the economic confidence to make infrastructure transformation decisions. The Board remains confident in the outlook for the long-term prospects for the Group.
Reece Donovan, CEO of iomart Group plc, commented:
"iomart has performed extremely well during these difficult times, proving the strength of our recurring revenue model, the value that our customers place on the services we deliver, and the commitment of our teams. The integrations of Memset and ServerChoice, which were acquired towards the end of the last financial year, have progressed well and we remain alert to the opportunity to integrate further cloud businesses, customer bases and capabilities into the iomart Group. With high levels of cash on our balance sheet, a compelling offering, and strong ongoing customer relationships, we are confident in the ongoing health of the business."
iomart Investors Video Overview
iomart Investors Videos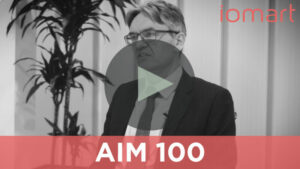 Click here to view iomart investor videos and news