AdEPT Technology Group: AGM Statement
AdEPT Technology Group plc, one of the UK's leading independent providers of managed services for IT, connectivity, unified communications solutions and cloud services, is holding its 2020 annual general meeting at 10.00am today at 77 Mount Ephraim, Tunbridge Wells, Kent, TN4 8BS.
Due to the COVID-19 pandemic and the related constraints in relation to social distancing, as set out in the Notice of Meeting dated 24 August 2020 this meeting will be held as a closed meeting, conducted with the Chairman, Ian Fishwick, and the Finance Director, John Swaite, present in person.
At the meeting, the Chairman, Ian Fishwick, will make the following statement:
"I am pleased to report that, in the 6 months to September 2020, AdEPT is weathering the storm presented by the COVID-19 pandemic.
I have been delighted with the resilience of the AdEPT business with order intake performing better than anticipated, cash collection improving since the beginning of April, our implementation teams now being able to deliver projects and only a handful of people remain on furlough (both part time and full time).
During recent months:
AdEPT has helped thousands of schools cope with the pressures brought about by the pandemic, enabling them to work remotely. With the financial support from the Department for Education, we have migrated hundreds of schools to the cloud,, providing them with a destination of either Google G Suite or Microsoft 365. AdEPT is one of only a handful of suppliers accredited to supply both Google and Microsoft.
AdEPT has completed the next phase of a development called eAdmissions, with the support of our strategic partner London Grid for Learning (LGfL). This enables 34 Local Authorities to make 240,000 offers of school places to parents annually through automated processes, facilitated by approximately half a million SMS text messages and mobile app push messages.
AdEPT has helped hundreds of doctors' practices rapidly pivot to become virtual surgeries, providing telephony and communications capability underpinning remote diagnosis and patient triage.
AdEPT has provided enhanced network capability to many NHS Trusts and hospitals with the help of various partners such as Convergence Group, Virgin and BT.
AdEPT's technology has enabled employees across numerous companies to work from home in various ways, with secure remote access to systems and seamless connection to applications.
Further, we are not standing still:
We have onboarded a new partner, 8×8, to round out our successful voice portfolio; with 8×8 sitting neatly alongside Avaya and Ericsson LG options.
We have been awarded Platinum Partner status by Gamma, which will benefit both AdEPT and our customers.
We have launched our AdEPT Consulting initiative, to guide customers on the transition from the tactical 'quick fixes' deployed rapidly during the early days of the COVID-19 crisis to more resilient strategic solutions.
Whilst assisting clients in their digital ambitions, AdEPT itself is undergoing a digital transformation, with the ultimate goal to put the entire business on a common operating platform: a programme referred to as Project Fusion. This programme continues to make excellent progress with over 60% of the workforce now utilising various aspects of the platform. We are making huge strides against our mission to become One AdEPT.
I remain convinced that COVID-19, whilst impacting the business in the short term, will, in many instances, accelerate the fundamental need for companies to invest in Information and Communications Technology (ICT), as companies look to embrace the digitally empowered future in what is increasingly becoming the '4th utility'.
Finally, the entire AdEPT team of over 300 talented individuals deserve praise for remaining incredibly committed during a testing time. Working from kitchen tables, bedrooms and studies to deliver our mission "uniting technology, inspiring people".
Whilst it remains too early to re-instate guidance for the year, considering the constantly changing landscape of the pandemic and the imminent removal of the furlough scheme from the economy, we are heartened by the excellent performance of the AdEPT team. Our key indicators of new order intake, project delivery, cash collection and operational effectiveness provide encouragement during these challenging times.
Our interim results for the 6 months ended 30 September 2020 are expected to be published on or around 17 November 2020. Finally, whilst we anticipate declaring encouraging progress in our interim results, we believe the current uncertainty brought about by COVID-19 justifies a cautious approach to the distribution of cash, and therefore we do not anticipate declaring an interim dividend at the time of the interim results announcement."
AdEPT Technology Investor Videos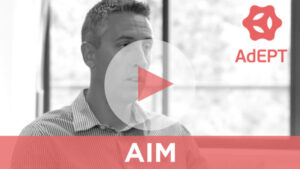 Click here to view LON: ADT Investor Relations Videos