Trident acquires another gold royalty
Acquisition of a 1.5% NSR over a developing million-ounce gold project in Western Australia
Trident Royalties Plc ("Trident" or the "Company") (AIM:TRR, FSX:5KV), the growth-focused mining royalty and streaming company, is pleased to announce that its wholly owned subsidiary TRR Services Australia Pty Ltd has entered into a binding agreement with a privately held Australian company (the "Seller"), to acquire an existing gold royalty (the "Royalty") over tenement E28/1610, which hosts the entirety of the million ounce Lake Rebecca Gold Project ("Lake Rebecca"), currently owned and operated by ASX-listed Apollo Consolidated ("Apollo") in Western Australia. The Royalty is being acquired for a total consideration of A$8,000,000 (approximately US$5,633,520) (the "Transaction"), comprised of A$7,000,000 in cash and A$1,000,000 in new ordinary shares in Trident.
Completion of the Transaction is conditional on approval by Australia's Foreign Investment Review Board by 23 December 2020, or such later date as the parties may agree ("Completion"). If Completion does not occur by this date, then the Transaction will not proceed.
HIGHLIGHTS
A compelling gold project rapidly progressing towards development
Lake Rebecca is a high-quality resource stage asset which shows potential for fast-track development within a world-class mining jurisdiction;
Apollo (A$83 million Market Cap.) is well funded to progress development with A$21.5M cash (as of 8 July 2020), following a recent successful fundraise and divestment of a non-core asset;
1.5% Net Smelter Royalty over exploration licence E28/1610 which is currently pending conversion to a mining licence (M 28/400, application date 2 December 2019);
The royalty covers the entirety of the Cleo, Duke, Duchess and Rebecca deposits, collectively referred to as the "Lake Rebecca Gold Project";
Apollo is aggressively pursuing the development of Lake Rebecca following the publication of a conservative open-pit shell constrained 1.035 million ounce JORC (2012) compliant maiden Mineral Resource Estimate¹ ("MRE") in February 2020 (Indicated + Inferred resource of 27.1Mt @ 1.2g/t Au, with 0.5g/t Au cut-off & A$2,250/oz gold price).
Significant Resource upgrade and expansion potential demonstrated by drill intersections subsequent to the MRE with mineralisation shown to be open at depth and along strike of the current modelled pit-shell.
A robust asset with proven geology in a prolific gold district
Project located within the Eastern Goldfields Province of the Yilgarn Craton in Western Australia, upon the highly prospective Laverton Tectonic Zone ("LTZ");
Notable mines positioned upon the LTZ include the AngloGold Ashanti Sunrise Dam project (>4Moz Au); Gold Fields Ltd Granny Smith / Wallaby mines (>8Moz Au) and a number of the Saracen Minerals Carosue Dam Operations ("CDO") deposits (>4.6Moz) (Moz Au reported Total Reserves & Resources 2019);
Strategically located within 150km of Kalgoorlie, one of the most prolific gold mining centres in the world, with 47 active gold mines or advanced stage gold projects located within a 160km radius of Lake Rebecca (accounting for a total 63.15Moz Au reported 2020);
A transformative acquisition providing long-life precious metals exposure to Trident with significant upside potential
Apollo is currently actively drilling the Lake Rebecca Gold Project. Highly encouraging post MRE and 2020 drill intersects include:
At Rebecca deposit, infill drilling on Jennifer structure: 40m @ 5.06g/t Au, 19m @ 5.90g/t Au, 12m @ 6.73g/t Au and 51m @ 2.90g/t Au.
Below current Rebecca Mineral Resource, 22m @ 3.44g/t Au 100m down-dip of the nearest intercept and 4.73m @ 19.10g/t Au 200m down dip of the nearest intercept.
New discovery at Cleo 1km west of Rebecca including 38m @ 2.00g/t Au from 65m.
Trident internal estimates indicate a long-life, substantial gold operation – providing a key cornerstone asset to underpin the precious metals' allocation in Trident's portfolio;
Nick Castleden, the MD of Apollo, recently stated that "construction expected to commence in 18-24 months";
Trident expects the development of Lake Rebecca to benefit from its proximity to existing gold infrastructure, including Saracen who are in the process of upgrading their CDO processing plant to a nameplate capacity of 3.2Mtpa from the current 2.4Mtpa²; and Gold Fields underutilised Granny Smith plant of 3.5Mtpa capacity, currently operating on a 1.5Mtpa campaign milling basis³. Silverlake Resources 1.2Mtpa Randalls/Salt Creek Processing Facility (approximately 80km from Rebecca), Northern Star's Kanowna Belle processing facility 2Mtpa (125km from Rebecca).
Adam Davidson, Chief Executive Officer and Executive Director of Trident commented:
"We are delighted to announce the acquisition of the Royalty over Lake Rebecca which will provide our shareholders with precious metals exposure from a significant and growing asset in the world's top mining jurisdiction. Existing, uncapped gold royalties over attractive, substantial gold projects being developed by credible operators are incredibly scarce globally, let alone in a jurisdiction such as Australia which more traditionally utilises equity and debt markets for project finance. The Transaction reinforces the benefits of Trident's global reach and network in sourcing attractive royalty opportunities.
"The Royalty will become a cornerstone asset for Trident and is anticipated to provide material and long-term revenue commencing in 2023 with significant upside to both scale and mine life. At this early stage, Trident believes that Lake Rebecca is on track to support a circa 100koz/a operation, located in a desirable jurisdiction being supported by gold prices at close to all-time highs. Acquiring attractive development stage royalties with a clear pathway to production has been proven to deliver value to shareholders, with many major and mid-tier royalty companies built on acquisitions such as this.
"More broadly, we are pleased to announce our fifth transaction in less than four months of being listed on AIM. We're encouraged by the attractive opportunities available to Trident – lending credence to our strategy of identifying and acquiring royalties outside the scope of the currently listed royalty peers, which have a predominate focus on precious metals in North America. I see this acquisition as a major step forward in our progress toward becoming the pre-eminent, growth-focused diversified mining royalty and streaming company."
The Transaction
The Royalty is being acquired for a total consideration of A$8,000,000 (approximately US$5,633,520), of which A$7,000,000 is payable in cash, due upon Completion. Trident will also issue the Seller A$1,000,000 of Trident shares on Completion. The shares will be issued at a price of £29.39p being the reference to the volume weighted average price of Trident's shares over the ten trading days prior to 23rd September 2020. The exact number of shares will be determined by the prevailing FX rate two days prior to Completion. The Seller has agreed not to dispose of its shares in Trident, other than in customary circumstances, for a period of 12 months from Completion.
The Lake Rebecca Gold Project
The Royalty covers E28/1610 which hosts the entirety of the Maiden JORC 2012 Mineral Resource estimate announced by Apollo on 10th February 2020¹.
Figure 1 – Map of Lake Rebecca Project to view the image, please click on the following link https://www.tridentroyalties.com/images/Lake_Rebecca_Map.jpg
The Lake Rebecca Project is comprised of three distinct deposits: Rebecca, Duchess and Duke. Rebecca is hosted on the north-eastern periphery of the E28/1610 tenement with Duchess and Duke nearer to the centre of the tenement area and located approximately 4km from Rebecca. Apollo has identified the 4km corridor between Rebecca & Duchess/Duke as highly prospective and has been the target of recent step-out drill programmes.
The Lake Rebecca deposits are located on the eastern margin of the Norseman-Wiluna Greenstone Belt at the southern end of the Laverton Tectonic Zone. Broadly defined as structurally associated orogenic gold deposits, the gold mineralisation is hosted by broad zones of disseminated, pyrite and pyrrhotite sulphides associated with deformation and silicification in dominantly granite and gneiss hosts rocks.
Recent drilling has been focused on infill and extensional drilling at Rebecca, resource definition drilling at Duke & Duchess, exploration drilling at the newly defined Cleo prospect as well as the 4km prospective corridor between the Rebecca and Duchess/Duke zones. Apollo recently announced the discovery of a substantial mineralised zone at Cleo which sits immediately west of the Rebecca deposit.
Trident considers there is good potential for Apollo to achieve material resource tonnage updates and resource classification upgrades to the current Mineral Resource Estimate, as well as having the potential to outline new exploration upside within the wider tenement covered by the royalty zone.
Infill drilling since the completion of the February MRE has intersected wide high-grade zones, most notably within the south Jennifer structure of the Rebecca deposit. This structure, together with the accompanying Maddy and Laura structures, have the potential to add mineralisation to the optimised in-pit Mineral Resources. The current block model shows these higher-grade structures also contain significant mineralised material outside of the pit shell and Apollo reports that the Rebecca mineralised corridor remains open over its more than 1.7km strike length.
Further potential Resource upside has been outlined by step-out drilling at the Duchess deposit on a new mineralised zone, outside of the modelled pit shell, to the east of the deposit. Drilling intercepts announced in August include 9m @ 1.82 g/t Au and 24m @ 0.87 g/t Au from 50m (hole RCLR0631), 12m @ 1.15g/t Au from 76m (hole RCLR0632), and 9m @ 1.17g/t Au from 113m (hole RCLR0633) and 35m @ 0.90 g/t Au from 94m (hole RCLR0649)⁴.
Ongoing reverse circulation drilling within the 4km long, north-south trending, prospective corridor between the Rebecca and Duchess and Duke deposits has highlighted additional exploration targets including intersects of 25m @1.23g/t Au and 15m @ 1.4g/t Au (both in hole RCLR0560) approximately 1km north of Duchess and 6m @ 9.72g/t Au (hole RCLR0579) approximately 1.5km north of Duchess⁵.
The Cleo target, approximately 1.5km west of Rebecca, is part of a 150m wide anomalous zone which shows potential for future resource delineation; the best results to date 38m @ 2.00g/t Au from 65m in sulphide mineralisation, including 2m @ 20.4g/t Au from 74m and 5m @ 2.75g/t Au in oxide mineralisation from 30m (hole RCLR0635) and 2m @ 9.39g/t Au from 47m (hole RCLR0636)⁶.
Competent Person's Statement
The technical information contained in this disclosure has been read and approved by Mr Nick O'Reilly (MSc, DIC, MAusIMM, MIMMM, FGS), who is a qualified geologist and acts as the Competent Person under the AIM Rules – Note for Mining and Oil & Gas Companies. Mr O'Reilly is a Principal consultant working for Mining Analyst Consulting Ltd which has been retained by Trident to provide technical support.
The information contained within this announcement is deemed to constitute inside information as stipulated under the Market Abuse Regulations (EU) No. 596/2014. Upon the publication of this announcement, this inside information is now considered to be in the public domain.
1 – Apollo Consolidated ASX announcement 10th Feb 2020 (https://www.asx.com.au/asxpdf/20200210/pdf/44dyphpx3pl45r.pdf)
2 – Saracen FY20 Annual Report
3 – Goldfields Website (https://www.goldfields.com/australia-region.php)
4 – Apollo Consolidated ASX announcement 31st August 2020.
5 – Apollo Consolidated ASX announcements 13th May 2020 and 8th July 2020
6 – Apollo Consolidated ASX announcement 31st August 2020
Trident Royalty Investors Videos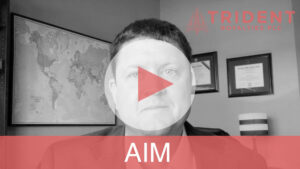 Click here to view Trident Royalty's Investor Videos