Trident Royalties: Discounted Payment for Koolyanobbing Royalty
Trident Royalties Plc ("Trident" or the "Company") (AIM:TRR, FSX:5KV), the growth-focused mining royalty and streaming company, is pleased to announce that its wholly owned subsidiary TRR Services Australia Pty Ltd has entered into a binding agreement with Fe Limited (ASX:FEL) for the early payment of the second tranche of the consideration for the Koolyanobbing royalty acquisition (the "Acquisition"), in exchange for a A$350,000 discount.
As announced on 25th March 2020 and 3rd June 2020, Tranche 2 of the Acquisition required Trident to pay A$3.0 million on 4 June 2021. Under the amended agreement, Trident will instead pay A$2.65 million by 25 September 2020 which will satisfy the Tranche 2 obligation fully.
Early repayment of the facility will allow Trident to crystalise an effective annualised 17.5% risk free return on capital whilst removing the future payment obligation and releasing security currently registered over the Koolyanobbing royalty in favour of Fe Limited. Trident's royalty portfolio will then be unencumbered, facilitating debt discussions for future royalty acquisitions.
Adam Davidson, Chief Executive Officer and Executive Director of Trident commented:
"We are delighted to announce the mutually beneficial early payment of Tranche 2 of the Koolyanobbing royalty acquisition. The early payment has largely been facilitated by the outperformance of the royalty economics to date, driven by the strong iron ore price and growing volumes from Koolyanobbing. It also provides improved clarity on Trident's cashflow profile and leaves the Company completely unencumbered with respect to future liabilities and security interests."
Trident Royalty Investors Videos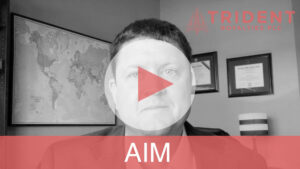 Click here to view Trident Royalty's Investor Videos