Emmerson: Interim Results
Emmerson Plc, the Moroccan focused potash development company, is pleased to announce its interim results for the six-month period ended 30 June 2020.
Highlights During & Post Period End
Announced Feasibility Study confirming Khemisset Potash Project's ('Khemisset' or 'the Project') potential to be a world class, low capital cost, high margin potash mine:

EBITDA margins in excess of 61% over a minimum mine life of 19 years
Outstanding project economics including a Post Tax NPV8 of US$1.4 billion* and IRR of 38.5%

Shifted focus to moving Khemisset towards "shovel ready" status including operational capability build-out, further technical work and project de-risking, Front End Engineering and Design ("FEED") and financing
Appointed Mr. Graham Clarke as CEO effective from 1 July 2020 – a highly experienced fertiliser industry executive with 26 years' experience in underground potash mining
Raised £1.72 million through an oversubscribed placing to rapidly develop the Project through the delivery of key work streams
Appointed Shore Capital Stockbrokers Limited ("Shore Capital") to act as Corporate Broker to the Company
Published Socio-economic Study results, which showed that the economic impact of the Project will increase the local GDP per capita by an estimated 40%
Currently progressing multiple workstreams to further de-risk the Project and provide confidence in the ongoing project finance and due diligence processes

Advancing permitting processes – on track for main permits to be in place in H1 2021
Investigating options for staged development to reduce upfront capital costs and provide financing flexibility
Engaging positively with potential strategic partners, debt providers and anchor investors
Graham Clarke, CEO of Emmerson, commented,
"This key period for Emmerson has resulted in a number of significant developments that have moved us ever closer to production while enhancing shareholder value. The Feasibility Study announced in early June was the highlight of the period, confirming Khemisset's potential to be a world-class, low capital cost, high margin potash mine, which is a very rare asset in the global fertiliser industry.
"I joined Emmerson shortly after this study was released and have hit the ground running as the Company's focus shifted to moving Khemisset towards "shovel ready" status. To this end, we are progressing permitting activities, technical reviews and optimisation of the declines and mine planning, further process work in parallel with working with our advisors on multiple potential funding routes.
"I am delighted to be part of Emmerson's journey at such a critical stage in its history and look forward to providing regular updates on its progress."
Emmerson PLC Investor Relations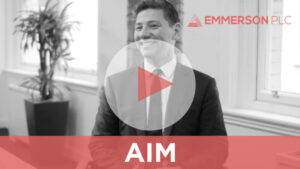 Click here to view Emmerson Investors Videos