Supermarket Income REIT hikes dividend
Supermarket Income REIT plc has today announced an increased "Total Shareholder Return" of 11.6%, which includes a hike in the dividend to 5.8p per share for the year. In ther period under review, 3 supermarkets were acquired, along with a further 26 acquired under a JV with British Airways Pension Trustees Ltd. 100% of rent was collected in the period.
Post the period end a further 9 supermakets were acquired, taking the total to 19 under direct ownership. The REIT also shored up its balance sheet with £134.8m of new debt financing at a weighted average cost of 2.0% and weighted average term of 4 years. In line with its strategy, the dividend target for the FY 2021 has been increased to 5.86p per share.
Below is an interview with with Ben Green & Steve Windsor from Atrato Capital, the Investment Advisor who outline the REIT's investment strategy.
VIDEO: Supermarket Income REIT
Supermarket Income REIT Video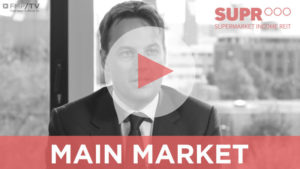 Click here to view Supermarket Income REIT investor relations films