Ocean Outdoor: Half Year Results
Ocean Outdoor Limited ("Ocean Outdoor", "Ocean", "the Group" or "the Company"), a leading operator of premium Digital Out-of-Home ("DOOH") advertising, with 4,000 screens across 270 cities in the United Kingdom, the Netherlands, the Nordics and Germany, is pleased to announce its half year results for the six months ended 30 June 2020.
Financial Highlights
Reported basis
Billings decreased to £44.3m (H1 2019: £50.8m)
Revenue fell by 2.5% to £36.5m (H1 2019: £37.4m)
Adjusted EBITDA** of £13.7m (H1 2019: £20.3m)
Cashflow positive over the period due to strong working capital management actions
Secured £35 million facility, comprising of a term loan and revolving credit facility, with £25 million of the new facility issued under the UK government backed Coronavirus Large Business Interruption Loan Scheme ("CLBILS")
Cash on balance sheet of £35.6m. Have drawn £5m of term loan with additional facilities of £30m available, subject to customary bank covenants
Proforma basis*
Billings decreased to £44.1m (H1 2019: £75.5m)
Revenue fell by 41% to £36.2m (H1 2019: £61.8m)
Adjusted EBITDA** of (£4.4m) compared to £14.1m in H1 2019
Digital billings made up 86% of total billings (H1 2019: 84%)
Operational Highlights
Expansion of the Ocean XL network in Scotland, Manchester, Birmingham and Southampton and The Grid network expanding into Norwich
Roll out of 40 new 65″ full motion screens across Canary Wharf
Appearance of Her Majesty The Queen on the Landsec Piccadilly Lights offering messages of thanks and support to the nation
Launch of two SME advertising funds in the UK and the Netherlands, offering ad space to businesses impacted by COVID-19 for £14m in the UK and €10m in the Netherlands
Established 381 digital screens in 18 malls spread over 18 cities in Denmark
Integration of the four Clear Channel locations in the Netherlands and the launch of the first Bee Hotel in Utrecht
In Sweden, signed with 17 new shopping centres and installed 75 new screens and in Denmark secured contract for 18 shopping centres across 18 cities
Unveiling of the Crucial Creative Competition 2020 with a £1m prize fund
Ocean Outdoor Netherlands appointed strategic media partner for Westfield Mall of the Netherlands
Over £3 million invested to date in new locations including expansion of the Two Towers® concept to Birmingham and large format screens across the Netherlands and roll out of new shopping centres across the Nordics
Agreed amendments to convert £9m of minimum guaranteed rents to profit share terms for 2020
Deferred over £6m of rents and profit shares due in Q2 and Q3 2020 to later periods
Initiated redundancy programmes which will lead to £2.5m of permanent savings in 2021 and beyond
£9m of the budgeted 2020 overhead has been removed via shorter working weeks, furlough and aggressive cost control measures
Current Trading and outlook
Week on week trading improvement since late May
Q3 tracking at significantly better than Q2
Forward visibility remains extremely short and advertiser confidence is directly linked to continued changes in government policy on COVID-19 restrictions
Commenting on the 2020 H1 results, Tim Bleakley, CEO of Ocean Outdoor Limited, said:
"It has been an extraordinary six months. Our business and the whole global advertising sector has had to deal with the impact of COVID-19 and react to events, government guidelines and restrictions on a daily basis. Throughout this period, Ocean's response has been to ensure that Digital out of Home remained an invaluable platform for citizens, governments and advertisers, by delivering value and amplifying messages across multimedia, even when city streets were deserted. The fightback has begun and traffic and pedestrian audiences are starting to return, and each week since late May we have seen a gradual improvement in audiences, advertiser demand and revenues."
"With new contracts won, an expanded network and a strong balance sheet, Ocean is both well poised to take full advantage of the market recovery and in a strong position to withstand any further headwinds."
*Due to the mid-year acquisition in FY19 of Ngage Media B.V Ocean Outdoor Nederland B.V, DKTD Media B.V, Ocean Outdoor Nordics AB and AdCityMedia AB, the condensed consolidated statement of profit and loss presented on page 11 does not provide a year on year comparison for the underlying performance and operations. The financial highlights detailed above are on a proforma basis for Ocean Outdoor Limited and all subsidiaries in the Group as at 30 June 2020 as if the same subsidiaries had been owned from 1 January 2019, excluding the impact of IFRS16 and using constant currency.
**Adjusted EBITDA is the Earnings Before Interest, Tax, Depreciation, Amortisation as adjusted for one off items. See the appendix for reconciliations between profit from operations and Adjusted EBITDA.
VIDEO: OCEAN OUTDOOR INVESTORS OVERVIEW
OCEAN OUTDOOR INVESTOR VIDEOS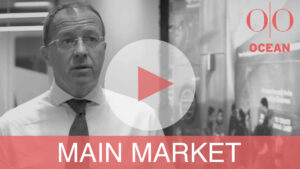 Click here to Ocean Outdoor Investors Videos