Amryt Pharma: Positive Opinion on AP103 Orphan Drug Designation
AMRYT RECEIVES POSITIVE OPINION FROM EMA ON ORPHAN DRUG DESIGNATION FOR AP103
Amryt (Nasdaq: AMYT, AIM: AMYT), a global, commercial-stage biopharmaceutical company dedicated to developing and commercializing novel therapeutics to treat patients suffering from serious and life-threatening rare diseases, is pleased to announce that the European Medicines Agency ("EMA") Committee for Orphan Medicinal Products ("COMP") has adopted a positive opinion for orphan designation for the use of AP103 in Epidermolysis Bullosa ("EB"). AP103 is based on Amryt's gene-therapy platform technology and offers a potential treatment for patients with Dystrophic Epidermolysis Bullosa ("DEB"), a subset of EB.
Orphan drug designation in the EU is granted by the European Commission within 30 days of a positive opinion being issued by the EMA COMP. This designation provides certain regulatory and financial incentives including but not limited to product market exclusivity for ten years in the EU following regulatory approval. Orphan designation is available to companies developing products intended to treat a life-threatening or chronically debilitating condition affecting no more than five in 10,000 persons in the European Union, and where the treatment provides a significant benefit to those affected by the condition or no satisfactory treatment is available. Amryt plans to submit an orphan drug designation request for AP103 to the US Food and Drug Administration ("FDA") in the near future.
Dr Joe Wiley, CEO of Amryt Pharma, commented:
"Receiving this positive opinion from the EMA for our gene-therapy candidate, AP103, is a significant development for patients suffering from Epidermolysis Bullosa and provides additional momentum to our development pipeline. Unlike other gene therapies that rely on viral vectors, AP103 is based on a novel polymer-based topical delivery platform, which we believe offers potential advantages in the gene-therapy field and has potential to be used in other genetic skin conditions. Alongside our recent positive top line readout from our Phase 3 EASE trial in FILSUVEZ®, today's news further illustrates the exciting clinical opportunities in Amryt's portfolio. These milestones relating to our efforts in Epidermolysis Bullosa are significant for all Amryt stakeholders as we build a global Epidermolysis Bullosa franchise and become a leader in rare and orphan diseases."
About AP103
AP103 is currently in preclinical development for the treatment of patients with DEB, a subset of EB. AP103 is the first gene therapy product candidate based on our novel polymer-based topical gene-therapy delivery platform, which also has potential use for the treatment of other rare genetic diseases. Amryt intends to initiate clinical development of AP103 in the first half of 2022.
About Epidermolysis Bullosa
EB is a rare, chronic and distressing genetic skin disorder that causes the skin layers and internal body linings to separate and affects infants, children and adults. The global incidence of EB is estimated to be approximately 1 in 20,000, which implies that there are as many as 30,000 affected individuals in the US and over 500,000 worldwide. There are currently no approved treatments. The global market opportunity for EB is estimated by the Company to be in excess of $1.0 billion.
Amryt Investor Videos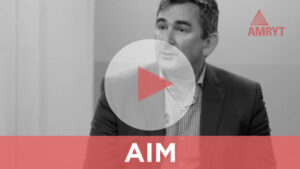 Click here to view Amryt Investor Relations Videos