Supermarket Income REIT: Acquisition of a Tesco supermarket and updated KID
Supermarket Income REIT (LSE: SUPR), the real estate investment trust providing secure, inflation-protected, long income from grocery property in the UK, announces the acquisition of a Tesco supermarket in Bracknell from a client of CBRE Global Investors for £39.5 million (excluding acquisition costs), reflecting a net initial yield of 5.7%.
Developed in the early 1990's, Tesco has a long history of trading from this prominent 7.3-acre site which comprises a purpose-built food store and a 400-space surface car park. The store has several purpose-built online distribution docks, supporting Tesco's online grocery business across the region. The asset is being acquired with an unexpired lease term of 10 years with annual, upward only, RPI-linked rent reviews (subject to a 4% cap and 0% floor). The acquisition will be financed via a £40 million increase of the £100 million RCF facility provided by HSBC. The increase will be priced at a 1.75% margin over 3-month Libor.
The Company has also published an updated Key Information Document ("KID") in accordance with the requirements of the Packaged Retail and Insurance-based Investment Products ("PRIIPs") Regulation.
The KID provides key information about the Company as an investment product. It is not marketing material. The KID contains information about the Company in a prescribed format and should be considered alongside the Company's statutory filings, such as the Annual Report, which can also be found on the website.
The full KID is available to view and download on the Company's website at: https://www.supermarketincomereit.com/investor-centre
Ben Green Director of Atrato Capital, the Investment Adviser to Supermarket Income REIT, said:
"This omnichannel Tesco supermarket is an excellent addition to our portfolio. The store is situated in a prime location and is an important online grocery fulfilment hub, supporting both home delivery and click and collect."
VIDEO: Supermarket Income REIT
An Overview From Ben Green & Steve Windsor
Supermarket Income REIT Video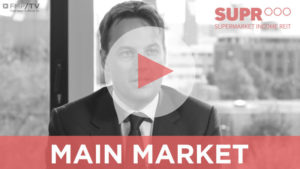 Click here to view Supermarket Income REIT investor relations films