Bushveld Minerals: A Green Mining Play?
AIM-listed Bushveld Minerals Limited describes itself as a "vertically integrated primary vandium producer and energy stroage provider." Simply put, not only do they produce Vanadium at the world's premium vanadium address (the Bushveld complex in South Africa) but through Bushveld Energy, the group is looking to build a leading downstream vanadium-based energy storage platform. Bushveld's share price has suffered in the last 6 months, hit by the COVID-19 induced lockdown in Sout Africa and a reduced Vanadium price. However, a recent Trading Update highlighted that, despite the COVID disruption, production in H1 2020 has been revised to between 3,660 mtV and 3,950 mtV which is 25-35% higher than 2019.
In the interview below with Bushveld CEO Fortune Mojapelo, we learn how demand for the metal is set to increase and how the Energy Division acts as a "natural hedge" to the share price volatility.
Bushveld Investors Videos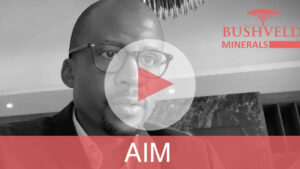 Click here for more Bushveld investor videos