Bushveld Minerals: Investment in Enerox GmbH
Investment in Enerox GmbH
Bushveld Minerals Limited (AIM: BMN), the AIM quoted, integrated primary vanadium producer and energy storage provider, with ownership of high-grade assets in South Africa, announces the acquisition by Enerox Holdings Limited ("EHL") of a further 65.1 per cent of the share capital of Enerox GmbH ("Enerox"), as anticipated in its announcement on 19 December 2019. EHL is a newly incorporated investment vehicle formed by a consortium of investors, including Bushveld Energy Limited ("BEL") (an 84 per cent owned subsidiary of Bushveld).
The investment is in line with the Company's strategy of establishing a VRFB Investment Platform ("VIP") to lead investments in VRFB original equipment manufacturers ("OEMs") with attractive upside potential. The VIP is one of multiple avenues of partnering with OEMs.
BEL and its initial investments will play a catalyst role and mobilise additional capital from third party funders to establish an investment capital pool to support VRFB OEM growth.
These partnerships support BEL's business model, that includes electrolyte manufacturing and rental, VRFB manufacturing and deployments.
BEL intends to own a minority interest in EHL, in line with its strategy of holding minority positions in select VRFB OEMs and being a catalyst to mobilise third party financing and assist the scale up VRFB OEMs.
Rationale of the investment in Enerox
The Enerox VRFB product is one of the most widely deployed over the past 10 years, offering a unique value proposition in the industry.
Enerox has a global customer base with over 130 field installations over the past 10 years across five continents. The technical due diligence process revealed that multiple batteries installed in 2008 and 2009 continue to still be in operation – a period of over 10 years.
Enerox has a newly redesigned VRFB product orientated around a modular and stackable 40ft container base configuration that increases standardisation to reduce costs of manufacturing, field installation and maintenance.
Expected diversification of Bushveld's customer and revenue base with preferential vanadium supply rights into energy storage products to support Bushveld's mining, processing and chemicals activities.
Under a separate agreement proposed to be entered into between Bushveld and Enerox, it is intended that Bushveld will be awarded a right of first refusal to supply vanadium products to Enerox on the same material terms as any other supplier. This would provide a future hedge to Bushveld's position against volatility in the vanadium price once the VRFB market has developed.
The second quarter of 2020 saw significant major developments in the VRFB sector, including announcements of new battery projects, manufacturing capacity and M&A activity, buoyed by the impact of the Covid-19 pandemic in accelerating the energy transition globally.
Renegotiated investment terms
Bushveld is pleased to announce that the original investment consortium , which first acquired 24.9 per cent of the issued share capital of Enerox (and will transfer such shares to EHL) and have already jointly invested €2.6 million into Enerox, have now, through EHL, acquired an additional 65.1 per cent in Enerox from CellCube Energy Storage Systems Inc (the "Seller") pursuant to a sale and purchase agreement ("SPA") dated 31 July 2020. Under the SPA, EHL will pay a nominal amount for the Enerox shares but provide a new secured shareholder loan facility of €3.7 million to Enerox (the "Shareholder Loan Facility"). The Shareholder Loan Facility is designed to provide working capital and funds for capital expenditure to enable Enerox to reach sustainable commercial production. The facility will be secured on certain assets of Enerox, although the security will be subordinated to security provided to Enerox's current lender, FGP Protective Opportunity Master Fund SPC.
EHL will hold 90 per cent of the share capital in Enerox, while the Seller will remain as a 10 per cent shareholder. In line with BEL's VIP strategy to hold minority investments in VRFB companies, it is seeking to procure third-party investors into EHL to assume BEL's funding responsibilities in terms of the SPA.
Should EHL not have funded Enerox an aggregate of €3.7 million by 31 December 2021, then the Seller will have the right to buy back for nominal value such proportion of 39 per cent of the share capital of Enerox as is equivalent to the shortfall in funding.
Prior to EHL's involvement, Enerox's latest audited financials showed the company made a loss of €4.73 million in the year ended 30 June 2019, had total assets of €4.5 million and net shareholder's equity of €0.56 million as at 30 June 2019 .
Fortune Mojapelo, CEO of Bushveld Minerals Limited, commented:
"We are excited to announce the closing of this transaction which is in line with our stated strategy to play a catalytic role in mobilising financing to scale up VRFB manufacturing capacity. Despite the global challenges caused by the Covid-19 pandemic, the emerging push to combine efforts to stimulate the global economy and an accelerated energy transition to clean energy has made the timing of this investment ideal.
"Enerox is a leader in this space and with the injection of these new funds it will be able to strengthen its position and take advantage of further growth opportunities. It follows our investment into Invinity Energy Systems, which has performed exceptionally well. Thus, Bushveld continues its strategy of supporting growing VRFB companies, partnering with external investors to drive growth capital into the sector and ensuring the growth of vanadium demand in energy storage."
Bushveld Investors Videos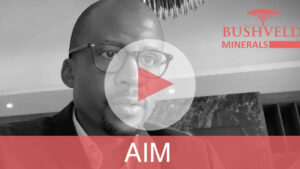 Click here for more Bushveld investor videos