Altus Strategies: US$81m PEA for Diba Gold Project, Western Mali
Altus Strategies Plc (AIM: ALS & TSX-V: ALTS) ("Altus" or the "Company"), the African mining royalty generator, announces positive results from a Preliminary Economic Assessment ("PEA") for its 100% owned Diba gold project ("Diba") in western Mali (" Mali ").
Highlights:
Positive PEA for an open-pit oxide gold mine with strong cashflow and rapid payback
Project economics applying a 10% discount rate and US$1,500/oz gold price:

Pre-tax NPV of US$115 million, IRR of 728% and payback of 6.2 months
After-tax NPV of US$81 million, IRR of 469% and payback of 6.9 months

Project economics applying a 5% discount rate and US$1,800/oz gold price:

Pre-tax NPV of US$167 million
After-tax NPV of US$118 million

Average production of 52,000oz per year with 3.25 year mine life and low strip ratio of 1:1.37
Significant growth potential for Diba project:

Seven further significant oxide gold targets to be systemically drill tested
Metallurgical study to test potential for sulphide ores to be processed via CIL

Diba is contiguous with the Sadiola mining permit at the heart of a world renowned belt
Steven Poulton, Chief Executive of Altus, commented:
"We are delighted with the robust PEA results on the oxide portion of the Diba hill deposit. The PEA envisages a simple low-cost and low-strip ratio open-pit gold mine, using standard heap-leach processing to generate a pre-tax valuation of US$115M, yielding an IRR of 728%.
"While the preliminary economics are compelling, we believe Diba has considerable growth potential. We now intend to systematically drill test the seven priority targets we have discovered within 7km of the Diba hill deposit. We will also undertake metallurgical test work to determine if the sulphide material, which is not modelled in the current PEA and which represents approximately 50% of the current mineral resource, is amenable to conventional CIL processing.
"We believe we have only scratched the surface on Diba's potential to generate substantial value for our shareholders and look forward to providing updates in due course."
Altus Strategies Update – Video with CEO Steven Poulton
Altus investor videos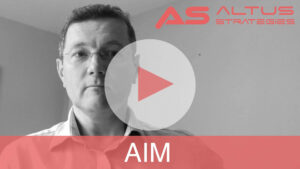 Click here to view LON: ALS videos