Emmerson: Raises £1.72m
Emmerson Plc, the Moroccan focused potash development company, is pleased to announce that it has raised £1.72 million (before expenses) through an oversubscribed placing of 40,470,589, new ordinary shares of no-par value each in the share capital of the Company ("Placing Shares") at a price of 4.25 pence per share (the "Issue Price") (collectively the "Fundraising").
Following the delivery of the Feasibility Study (refer to announcement 1 June 2020) for the Khemisset Potash Project ("Khemisset" or "the Project"), which once again confirmed its potential to be among the lowest capital cost potash development projects in the world, the Company received several expressions of interest from investor groups with respect to investing in Emmerson.
The placing was led by sole broker Shard Capital Partners LLP ("Shard"). The funds raised will primarily support the Company as it continues to rapidly develop the world class Khemisset Project through the delivery of key work streams.
Graham Clarke, CEO of Emmerson, commented:
"The support that we have received in this fundraise, for which demand significantly exceeded our minimum targeted figure, is very encouraging and demonstrates a strong belief from our investors in the potential of Emmerson and the Khemisset Project.
"These funds enable us to continue to make strong progress on preparing the Khemisset Potash Project for detailed design and engineering and, ultimately, construction.
"While our focus in the short term is on permitting, strategic financing discussions and reviewing the Feasibility Study for both opportunities to improve the project further and complete additional work to mitigate any risks, we also expect to be able to complete additional work on our SOP project, salt strategy and to bring our additional resources into a mine plan, which present growth opportunities to improve our already outstanding economics.
"We look forward to keeping our shareholders updated on the progress we make over the remainder of 2020 and into 2021."
Emmerson PLC investor relations video
Five Minute Pitch TV recently filmed Hayden Locke, Director of Emmerson. He provides an investors overview of business in the video below – the interview focuses on Emmerson's operations, the geopolitical situation in Morocco, the global potash market and the companies forward strategy.
Emmerson PLC Investor Relations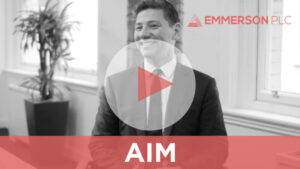 Click here to view Emmerson Investors Videos