AdEPT Technology: Final Results & COVID Update
AdEPT (AIM: ADT), a leading UK independent provider of award-winning managed services for IT, unified communications, connectivity and voice solutions, announces a COVID-19 update alongside its results for the year ended 31 March 2020.
COVID-19 update
Today we are pleased to announce our full year results to 31 March 2020. However, before we go into this detail, we thought it would be helpful to give you an update on what has been happening over the first quarter (April-June), a period entirely in lockdown.
In order to protect the health and safety of its team, clients and the communities it operates in, the entire AdEPT team transitioned to remote working immediately following the lockdown announcement. Business continuity has been unaffected with the Group continuing to provide a full service to clients. Over recent weeks the team have been gradually returning to the office however our policy is one of 'flexible working' and we plan to continue this adapted working practice for the foreseeable future.
Commenting upon the COVID-19 situation, Chairman Ian Fishwick said: "In our trading update on 2 April 2020 I explained that we had been conducting financial stress tests and that we had identified key factors that may influence our results. I will give you an update on each.
SALES ORDER INTAKE
In the trading statement we modelled new order volumes falling to c.25 per cent. of the norm for a Q1 period (April to June). This was based on the assumption that the sales team could no longer meet clients face-to-face and that buyer appetite would be curtailed. We are pleased to report that new order volumes have proven to be significantly more resilient than we had initially modelled in respect of both recurring services and one-off projects, which is an encouraging start to the year given the COVID-19 challenges. This performance reflects well on the public / private split of the AdEPT business and our role in the market. This achievement is underpinned by some notable wins including an Avaya Contact Centre contract for the Royal Borough of Greenwich and a wide-area-network for Worcestershire NHS.
INSTALLATION DELAYS
We predicted a drop in project revenues given our inability to visit many customer sites for project related work. Indeed, it has been difficult to turn new orders into revenue in the first quarter, a situation compounded by the fact that Openreach ceased installing any circuits except those for critical infrastructure. This backlog of work in progress is temporary and will unwind as lockdown eases, although it will inevitably have a short-term impact.
However, this shortfall in on-site project work has been counterbalanced, in part, by the AdEPT success with cloud migrations in Education. During lockdown the Department for Education announced additional funding to assist schools in moving to the cloud in support of remote working.
AdEPT is playing a major role in this initiative – and to date is helping over 250 schools with cloud migrations to either Google G-Suite or Microsoft 365. We anticipate further success over the coming months as AdEPT is one of only five approved companies who can migrate schools to both Google and Microsoft cloud platforms.
DEBTORS
We anticipated pressure on credit at the commencement of lockdown and sensibly drew down our revolving credit facility by an additional £7.2m. We are pleased to report that we have been successful in collecting debt with debtor days at the end of Quarter 1 standing at 42 days; compared to 48 days at 31 March 2020.
As a result, we have repaid £8m of the revolving credit facility, whilst also paying the full value of the ACS earn out (a successful acquisition) – a cash outflow of £1.8m, whilst still leaving AdEPT with a healthy cash position. The cash generative business model of the Group has continued throughout the lockdown period.
Whilst our expectation of customers delaying payments has largely remained unsubstantiated so far, we must recognise that there remains a hidden potential risk at the point the Government ceases furlough payments and rents and VAT payments recommence. We therefore continue to monitor cash collection very closely.
CHURN
In the first quarter we have not seen any material change to normal customer churn levels. As noted above, the next six months is still difficult to predict.
GOVERNMENT SCHEMES
AdEPT has been utilising the Government Job Retention Scheme ("furlough") to optimise the business during this pandemic. We elected to top up salaries for all of those on furlough to 100 per cent. of their base salary as we felt employees should not be penalised through the onset of COVID-19. This has been well received by staff and has made the furloughing process a simple one. The proportion of our staff placed on furlough has reduced from 20 per cent. of our workforce to 5 per cent. of the workforce, a clear sign of things returning to some form of normality.
BANKING AGREEMENTS
Finally, in terms of banking covenants, we indicated that we would be prudent and adjust our banking covenants to reflect our worst-case scenarios. We are pleased to report that our banking partners, Barclays Bank plc and Royal Bank of Scotland plc, have supported the adjustment of covenants at no cost. This adjustment now gives us more than 20% headroom against the covenant profile.
OUTLOOK
In conclusion, the Board believes that COVID-19 will have a modest impact on the business in the medium to long term due to the fundamental need for its customers to communicate and use ICT for operating their businesses. AdEPT's client base is well diversified across both public and private sectors and the long-term consequences may in fact expand the demand for its services if, subsequently, there is an acceleration in digital transformation initiatives.
Whilst it is still too early to provide guidance for the year considering the constantly changing landscape of the pandemic we are heartened by the excellent performance of the AdEPT team, as reflected in these key indicators, during these challenging times."
Final results for the year ended 31 March 2020
Financial highlights
Revenue increased by 20% to £61.7m (2019: £51.3m)
Underlying EBITDA increased by 9% to £11.7m (2019: £10.8m)*
Underlying EBITDA margin % of 19% (2019: 21%)
Adjusted fully diluted earnings per share of 28.1p (2019: 29.5p)
Cash generation from operating activities before tax £9.6m (2019: £7.5m)
Conversion of reported EBITDA to operating cash flow before tax of 82% (2019: 70%)
Cash at year end £11.85m (2019: £7.65m)
Year-end net senior debt of £27.9m (2019: £27.1m)**
Capital expenditure 2% of revenue (2019: 1%)
Operational highlights
Managed services revenue increased 30% year on year
Managed services accounted for 81% of total revenue and EBITDA (2019: 75%)
Acquisition of entire issued share capital of Advanced Computer Systems UK Limited in April 2019
* Defined as operating profit after adding back depreciation, amortisation, acquisition fees, restructuring costs, adjustment to deferred consideration and share-based payment charges
** Net senior debt is defined as cash and cash equivalents less short-term and long-term senior bank borrowings and prepaid bank fees
AdEPT Technology Investor Videos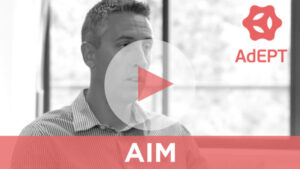 Click here to view LON: ADT Investor Relations Videos