Supermarket Income REIT: Dividend Declaration
The Board of Directors of Supermarket Income REIT plc (LSE: SUPR), the real estate investment trust providing secure, inflation-protected, long income from grocery property in the UK, has today declared an interim dividend in respect of the period from 1 April 2020 to 30 June 2020 of 1.460 pence per ordinary share, payable on or around 7 August 2020. The ex-dividend date will be 16 July 2020 with a record date of 17 July 2020. The dividend will be paid 0.818 pence as a Property Income Distribution ("PID") in respect of the Company's tax-exempt property rental business and 0.642 as an Ordinary UK dividend.
The Company has now declared four quarterly dividends totalling 5.8 pence per ordinary share for the financial year ended 30 June 2020, achieving the Company's full-year dividend target.
VIDEO: Supermarket Income REIT
An Overview From Ben Green & Steve Windsor
Supermarket Income REIT Video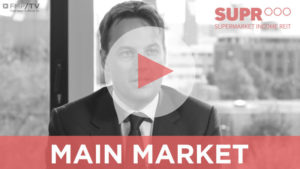 Click here to view Supermarket Income REIT investor relations films