Supermarket Income REIT: Acquisition of portfolio of Waitrose supermarkets
Supermarket Income REIT plc (LSE: SUPR) the real estate investment trust providing secure, inflation-protected, long income from grocery property in the UK, announces the acquisition of a portfolio of supermarkets via a sale and leaseback transaction with Waitrose & Partners ("Waitrose") for £74.1 million (excluding acquisition costs), reflecting a net initial yield of 4.4%.
The portfolio comprises six freehold supermarkets with an average gross internal area of 32,000 sq ft. The stores are let to Waitrose on new 20-year leases with a tenant-only break option in year 15 and are subject to five-yearly, upward-only, CPIH-linked rent reviews (subject to a 3% cap and 1% floor). The stores form a key part of Waitrose's UK online grocery fulfilment network and offer home delivery and/or click and collect.
Waitrose will continue to trade from the stores as normal with no change from a customer or Waitrose Partner perspective.
Ben Green, Director of Atrato Capital, the Investment Adviser to Supermarket Income REIT, said:
"We are very pleased with this transaction. All of the stores have an impressive trading record and are complementary to our existing portfolio, providing further tenant and geographic diversification".
Full store list:
Waitrose Eastbourne, High Street, BN21 1HR
Waitrose Edenbridge, Mont St Aignan Way, TN8 5LN
Waitrose Ely, Bray's Lane, CB7 4QJ
Waitrose Oundle, 66 East Road, PE8 4BZ (1)
Waitrose Sandbach, Flat Lane, CW11 4BE
Waitrose Sudbury, Station Road, CO10 2SS
VIDEO: Supermarket Income REIT
An Overview From Ben Green & Steve Windsor
Supermarket Income REIT Video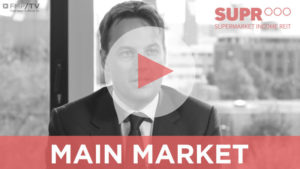 Click here to view Supermarket Income REIT investor relations films