Emmerson: Appointment of CEO
Emmerson Plc, the Moroccan focused potash development company, is pleased to announce the appointment of Mr. Graham Clarke as CEO effective from 1 July 2020. Graham is a highly experienced fertiliser industry executive with 26 years' experience in underground potash mining and a proven ability to attract talent and build operating teams with the capability to deliver large, complex projects in the fertiliser space. Graham's broad experience includes managing all technical disciplines, due diligence processes and stakeholder engagement.
Mark Connelly, Chairman of Emmerson, commented:
"Graham is a highly experienced potash mining executive with a clear track record of success in the industry. What is more unique is his recent experience of taking a large, highly complex, underground mine all the way from a concept through to construction. In my experience, this is a rare combination of skills in any commodity, and this is particularly true in the potash industry.
"This is an extremely important moment in our corporate progression, from junior explorer into a mine developer, and we are truly fortunate to have someone of Graham's experience to join and build out the team that will eventually deliver the Khemisset Potash Mine.
"We would like to thank Hayden for his hard work in guiding the Company to this point and his pragmatism in recognising that a different skill set will support the Company into its next phase of our development. We are pleased that he will remain with Emmerson as a Director of the Company, focusing on the financing and strategic partner discussions which are underway."
Graham Clarke, CEO of Emmerson, commented:
"I am delighted to be joining Emmerson at this important stage of its development. The results from the Feasibility Study indicate a very compelling potash opportunity which, because of its very low expected upfront capital cost, is likely to have multiple financing options available to it.
"I look forward to gaining a more detailed understanding of the Project in the coming months and using my experience to improve what is already a very impressive potash project and expedite development towards production."
About Graham Clarke
Graham is a highly experienced potash mining executive with extensive experience managing large multi-disciplinary teams for underground fertiliser mines. During his 26 years at Cleveland Potash, which owned the Boulby Potash Mine in Yorkshire, Graham held multiple positions from Graduate Trainee through to Director of Mining and, finally, as Managing Director of ICL UK (the owner of Cleveland Potash) with full operational responsibility. At Boulby, Graham was responsible for numerous operational improvements which resulted in both operational efficiency and profitability enhancements, but also shaped a safety-first culture driven by prudent risk management and best practice operational procedure.
Since 2011, Graham has been a key member of the senior executive team at Sirius Minerals, overseeing all technical aspects of the development of the Woodsmith Mine, moving it successfully from concept, through various phases of study and design, into construction. The Woodsmith Mine is one of the largest and most complex underground mine developments in the United Kingdom for a generation and Graham was an instrumental member of the team in delivering numerous positive outcomes including all technical and engineering work, but also the receipt of permissions to build the mine following years intensive stakeholder engagement.
Emmerson PLC investor relations video
Five Minute Pitch TV recently filmed Hayden Locke, CEO of Emmerson. He provides an investors overview of business in the video below – the interview focuses on Emmerson's operations, the geopolitical situation in Morocco, the global potash market and the companies forward strategy.
Emmerson PLC Investor Relations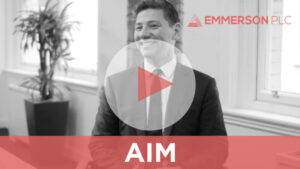 Click here to view Emmerson Investors Videos