JLEN: Annual Financial Report
The Directors of JLEN Environmental Assets Group Limited (the "Company" or "JLEN") are pleased to announce the Company's results for the year ended 31 March 2020.
Financial highlights
Portfolio valuation as at 31 March 2020 of £537.1m (31 March 2019: £523.6m)
NAV per ordinary share of 97.5 pence as at 31 March 2020 (31 March 2019: 104.7 pence), reduction primarily driven by the effect of the long-term power price forecast on the portfolio value
Total dividends declared of 6.66 pence per ordinary share for the year to 31 March 2020 (2019: 6.51 pence per ordinary share), in line with the target set out in the 2019 Annual Report. Dividend cover of 1.1 times for the financial year
Target dividend for the year to 31 March 2021 of 6.76 pence per ordinary share
Share price total return for the period since IPO of 54.6% (7.5% annualised)
Portfolio highlights
Three acquisitions completed this year and €25m commitment to FEIP, a limited partnership investing in predominantly greenfield European energy infrastructure assets
First acquisitions in the hydro, battery and food waste sectors increasing the Company's diversification
Diversified portfolio now 36% wind, 25% AD, 23% Solar, 15% waste and wastewater and 1% Hydro and battery by value
Overall portfolio performance slightly above expectations
Wind portfolio generation above budget due to particularly good wind resource in the last quarter
Solar assets slightly below budget for the year due to grid outages and repair works carried out under warranty
Anaerobic digestion assets continued to outperform during the year
Bio Collectors food waste project negatively impacted by Covid-19 pandemic as waste volumes fall. Other projects in the portfolio currently demonstrating resilience
Other highlights
JLEN will join the FTSE 250, effective 22 June 2020
Raised £57.2m of equity capital via oversubscribed placings during the year
Revolving credit facility of £170m, expiring in June 2022
Strong pipeline of assets for further growth
Appointment of Stephanie Coxon to the Board of Directors, effective 11 June 2020
Richard Morse, Chairman of JLEN, said:
"In an extraordinary year featuring falling power prices and the onset of the Covid-19 pandemic, JLEN has provided reliable income for investors while continuing to diversify its portfolio."
Annual report
A copy of the annual report has been submitted to the National Storage Mechanism and will shortly be available at www.morningstar.co.uk/uk/NSM. The annual report will also be available on the Company's website at www.jlen.com where further information on JLEN can be found.
Results Interview
JLEN Investor Videos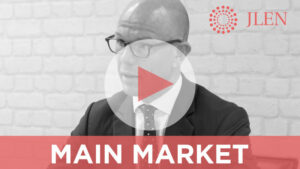 Click here to view JLEN Investor Relations Videos