Ocean Outdoor: Final Results & Q1 2020 Update
Full Year 2019 Results and Q1 2020 update
Ocean Outdoor Limited ("Ocean Outdoor", "Ocean", "the Group" or "the Company"), a leading operator of premium Digital Out-of-Home ("DOOH") advertising in the United Kingdom, the Netherlands, the Nordics and Germany, is pleased to announce its full year results for the 12 months ended 31 December 2019 and an update for Q1 2020.
2019 Financial Highlights:
Billings increased 14% year on year to £173.4 million (FY18: £152.7million) *
Group revenue up 14% to £141.3 million on a proforma basis (2018: £124.5 million)*
Gross profit growth of 9% to £57.4 million (FY18: £52.6 million), with a gross profit margin of 40.6% (FY18: 42.2%) *
Adjusted EBITDA up 9% to £33.2 million on a proforma basis (2018: £30.4 million) *
Ocean UK and Ocean NL revenues combined are up 14.3% to £98.3 million (2018: £86.0 million) and Adjusted EBITDA up 10.8% to £27.7 million (2018: £25.0 million) **
2019 Operational Highlights:
Completed five acquisitions:

Ngage Media B.V ("Ngage") and Interbest B.V ("Interbest") for a combined initial cash consideration £44 million
DKTD Media B.V ("Beyond Outdoor"), adding another 8 screen locations in the Netherlands
Visual Art ("Visual Art"), a Sweden based media sales and digital signage group operating 25,000 screens across 24 countries, for £58 million
AdCity Media ("ACM" ), a Sweden based premium out-of-home operator focussed on large format digital and high-end city centre locations across the Nordics, for £24 million
Purchasing the landlord agreements for the large format displays of Clear Channel across the Netherlands

Awarded long-term contracts with Glasgow City Council and Southampton City Council, to redevelop and introduce new large format digital screens
Successful extension of the iconic BFI IMAX and LandSec's Piccadilly Lights contract
Concluded rollout of 128 roadside digital 6-sheet faces across the Midlands
Exclusive partnership with the UK's largest commercial broadcaster ITV, to broadcast live content and highlight packages for the Rugby World Cup 2019
Q1 2020 & Current Trading:
Group revenue down 4% in Q1 2020 to £27.4 million on a pro-forma basis (£28.5 million: Q1 2019)

Weaker in Nordics and NL as suffered earlier from COVID-19 than UK
UK was flat for Q1, compared to market down 3%

Strong balance sheet and liquidity with cash position as at 28 May 2020 of £32 million, and liquidity of c.£67 million
Responding to COVID-19, decisive steps taken to actively manage costs, strengthen Ocean's financial position and protect staff in light of the rapid spread of COVID-19 across its territories:

Cost base: Proactively managing Ocean's cost base in the short-term, while protecting the core business by cutting all discretionary spend, appropriately managing Ocean's headcount through the reduction of employee working hours and where necessary furloughing of staff, undertaking discussions with suppliers and landlords and introducing other cash conservation measures
Financing arrangements: £35 million facility, comprising of a term loan and revolving credit facility. £25 million of the new facility has been issued under the UK government backed Coronavirus Large Business Interruption Loan Scheme ("CLBILS").
Government initiatives: Across all of Ocean's territories there are newly-introduced government schemes that the Group is utilising including, tax deferrals and furloughing of employees
Aryeh Bourkoff appointed to the Board as Co-Chairman of the Group
Commenting on the results, Ocean CEO Tim Bleakley said:
"We were pleased with a strong set of 2019 results which reflected the positive momentum we had built right across the Group and the underlying fundamentals of Digital Out-of-Home. This work has helped us to safeguard the Ocean philosophy and the medium we represent, which builds a strong foundation for us to navigate the present COVID-19 situation.
"Last year's transformation reflected Ocean's evolving technical capabilities, desirable content, effective reach and engagement with audiences, all creating a dynamic and agile media platform for brands. The results are particularly pleasing as management continued to make acquisitions and expand further across Northern Europe. The integration of these businesses is well underway and in-line with our plan.
"As the COVID-19 situation unfolded, the strategy has been to enhance both Ocean's and the wider industry proposition by using our screen networks in innovative ways to assist and inspire citizens in the countries where we operate; from the creation of an emergency media and advertising fund across the UK and Netherlands that has helped over 400 SME businesses; to broadcasting extracts of the Queen's speech on the Piccadilly Lights; to the creation of a Public Art display for the National Gallery across our UK city centre screen networks. All these examples generated national and international multi-media headlines and demonstrates Ocean's societal role. It is these unique attributes and the capabilities of the digital out of home medium that Ocean continues to showcase that give me confidence in our ability to bounce back stronger."
* Pro-forma basis assumes Ocean Outdoor Limited and all subsidiaries in the Group had been owned from 1 January 2018. These figures include the Visual Art Media Sales business as well as Ad City Media business. They exclude earnings from the Visual Art Digital Signage joint venture. For comparative purposes, the proforma figures are at constant currency using the average exchange rates for 2018, excluding IFRS 16 accounting and no longer add back listing costs, £892k (2018: £897k).
** These exclude the Nordic acquisitions and are the business units on which 2019 revenue guidance was issued.
VIDEO: OCEAN OUTDOOR INVESTORS OVERVIEW
OCEAN OUTDOOR INVESTOR VIDEOS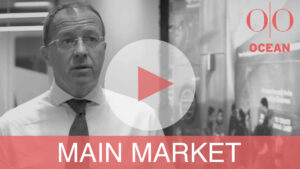 Click here to Ocean Outdoor Investors Videos