AdEPT Technology: New AdEPT partnership with 8×8
New AdEPT partnership with 8×8 extends Unified Communications & Contact Centre Portfolio – with a focus on 'pure cloud'
With its mission of 'uniting technology, inspiring people', AdEPT Technology Group today announces a new strategic partnership with 8×8, a global, class-leading provider of pure cloud solutions to address Unified Communications as a Service ("UCaaS") and Contact Centre as a Service ("CCaaS") needs.
Relevance for investors
AdEPT Technology Group is on course to win more business in the Unified Comms (UC) marketplace through a new strategic partnership with 8×8, announced today.
Responding to significant market demand, the new partnership, which provides a unique complement to the AdEPT portfolio, will allow AdEPT to meet customer requirements for easy and rapid rollout of cloud Unified Communications ("UCaaS") and Contact Centre ("CCaaS") services.
This will enable AdEPT to win more UC business – helping the Group to tap into a marketplace that is anticipated to grow at a CAGR of 25% from 2019 to 2025 (Ref 1) and a CCaaS market seeing similar CAGR of 24% (Ref 2).
The initial focus for the proposition will be public sector organisations and healthcare providers.
CEO of AdEPT, Phil Race, is delighted to welcome 8×8 as an AdEPT partner. He said:
"The partnership with 8×8 elegantly builds out our portfolio with a fantastic solution set. This is already an important marketplace for AdEPT, where we have been highly successful in delivering communication solutions – whether they are deployed on-premise, in a hybrid manner or purely in the cloud.
"However, we have seen an increasing demand for UC and contact centre solutions that can be deployed without any need for on-premise infrastructure, the so-called 'zero footprint' projects.
"These solutions are crucial to business in normal times – but they have become even more critical in a Covid world of disconnected supply chains, distant customers and remote workers.
"It's important for AdEPT to be partnering with leaders in this industry".
The current state of play
AdEPT currently deploys a strong portfolio of solutions, powered by key strategic partners, which can be summarized as;
Avaya – As an Avaya Diamond Partner, AdEPT supports many customers in this space, extending to significant enterprise customers such as HCA and Citrix, with multiple deployments. AdEPT has significant scale and expertise in on-premise and hosted systems across the full stack of Avaya telephony, covering both Unified Communications and Contact Centre aspects of the Avaya portfolio.
Ericsson-LG – AdEPT has developed and deployed its own Nebula Voice solution – powered by the Ericsson-LG platform. This has proven very popular with Small to Medium Enterprises (SMEs), in both an on-premise and cloud service context.
Microsoft – AdEPT has extensive Microsoft experience, deploying Microsoft 365 and Microsoft Teams to many customers. This offering has recently been enhanced with Microsoft Teams Direct Routing from Gamma, giving AdEPT an excellent pathway for upgrading customers using Skype for Business as their primary voice system.
So why add 8×8?
8×8 provides a unique complement to the AdEPT portfolio. As a pure cloud player, 8×8 addresses the need for a solution that is easy to deploy, has 'zero footprint,' with scalable functionality. As a result, the 8×8 X Series UCaaS suite is proving very disruptive in the UK marketplace.
Further endorsement comes from Gartner, with the 8×8 product suite classed as a 'Leader' in two Magic Quadrants, one for Unified Communications as a Service, Worldwide (Ref 3) and the other for Contact Centre as a Service.
Why now?
This new partnership allows AdEPT and 8×8 to tap into the public sector "Cloud First" policy and similarly the NHS "Internet First" policy. These are strategic guidelines to public sector organisations that encourage the deployment of technology in the cloud wherever possible.
AdEPT has a long track record of deploying voice solutions, with expertise in delivering Internet Protocol (IP) telephony, UC and Contact Centre solutions.
Because of this experience, an increasing number of public and private sector businesses are turning to AdEPT to help them through the transformational voice journey from legacy to new.
This success has led to AdEPT achieving Diamond partner status with Avaya, and Platinum partner status with Gamma – both achieved in the past eight months – as more businesses trust AdEPT to take them on their transformational journey.
This demand will only accelerate as BT pursues its plan to decommission the analogue copper phone network by 2025, which means that more than 16 million lines and channels will need to move to alternative products by 2025. (Ref 4).
The 8×8 cloud portfolio completes the full set of solutions AdEPT needs to address this substantial market demand.
Get in touch
If companies need expert, vendor-agnostic, advice to achieve their specific business challenges, as well as help to prepare for 2025 then contact AdEPT.
References
1. https://www.mordorintelligence.com/industry-reports/unified-communications-as-a-service-ucaas-removing-barriers-of-communications-trends-industry
2. Research and Markets report, September 2019
3. As of July 2019
4. BT Openreach data
AdEPT Technology Investor Videos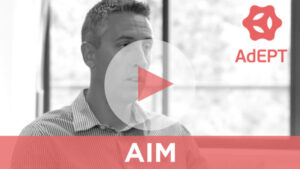 Click here to view LON: ADT Investor Relations Videos