Amryt Pharma: Q1 Results
Q1 2020 Results
$44.6M unaudited Q1 revenues representing a 30% increase on unaudited combined revenues of $34.3M in Q1 20191
10% quarter on quarter unaudited revenue growth in Q1 2020 versus Q4 2019 ($40.5M)
$4.6M EBITDA2 delivered in Q1. Including non-cash items and share based compensation expenses, this results in an operating loss before finance expense for Q1 of $17.0M
Cash generated from Operating Activities of $6.2M during Q1 2020
Aegerion integration successfully completed ahead of schedule, delivering positive EBITDA a quarter ahead of plan
Robust financial position with $67.0M in cash compared to $65.2M at December 31, 2019
Enrolment in EASE global Phase 3 study concluded with top-line data expected in late Q3 / early Q4 2020
FILSUVEZ® confirmed as the global brand name for AP101
Confidentially submitted a draft registration statement on Form F-1 to the U.S. Securities and Exchange Commission ("SEC") on February 18, 2020 relating to the proposed listing of American Depositary Shares ("ADSs") representing Amryt ordinary shares on the Nasdaq stock market ("Nasdaq")
Amryt, a global, commercial-stage biopharmaceutical company dedicated to developing and commercializing novel therapeutics to treat patients suffering from serious and life-threatening rare diseases, today announces unaudited financial results for the first quarter ended March 31, 2020.
Joe Wiley, CEO of Amryt Pharma, commented:
"The positive momentum we experienced during 2019 has continued into Q1 2020. Our performance so far is exceeding expectations this year as our business performs and grows across a host of metrics. Most importantly, we have experienced strong revenue growth and the business is significantly EBITDA positive a quarter ahead of schedule.
We believe Amryt is now very well positioned to execute on our strategy of becoming a global leader in rare and orphan diseases and most importantly, delivering therapies to patients with unmet needs. We look forward to the top-line data readout from our EASE study in late Q3 or early Q4 which will represent a significant milestone for Amryt.
During the COVID-19 pandemic, our primary focus remains the health and well-being of our team, patients, carers, partners and their families. Given that our business lends itself to remote working and the majority of our revenues are inherently recurring in nature, I am pleased to report that our business is proving resilient and performing well".
Q1 Financial Highlights:
Revenues
$44.6M unaudited Q1 revenues representing a 30% increase on unaudited combined revenues of $34.3M in Q1 20191
10% quarter on quarter unaudited revenue growth in Q1 2020 versus Q4 2019 ($40.5M)
Myalept® / Myalepta® (metreleptin) generated revenues of $26.9M in the quarter (Q1 2019: unaudited combined revenues1 $18.0M)
Juxtapid®/Lojuxta® (lomitapide) generated revenues of $17.4M in the quarter (Q1 2019: unaudited combined revenues1 $16.2M)
Strong US revenues in Q1 accounted for 55% of total global revenues
EMEA revenues accounted for 32% of global revenues, driven by the continued rollout of metreleptin post EMA approval in 2018
ROW revenue was bolstered by a $3.0M metreleptin order in LATAM during Q1 2020. Unlike in other regions, ordering patterns in LATAM can be sporadic in nature and therefore we do not expect this revenue to recur each quarter
* Unaudited combined revenues for 2019 represent the combined unaudited revenues of the Company assuming the acquisition by Amryt of Aegerion happened on 1 January 2019. It also (i) excludes revenues from sales to end-users in Japan following the out-licencing of Juxtapid to Recordati in February 2019, (ii) excludes up-front payments from Recordati in 2019, and (iii) includes a 22.5% royalty on Japanese sales of Juxtapid from 1 January 2019 as if the Recordati agreement was in place from that date.
The Q1 operating loss of $17.0M includes the impact of non-cash items including amortisation, depreciation and the impact of share-based compensation expenses, plus acquisition & severance related costs associated with the Aegerion acquisition. Adjusting for these non-cash items, the Company delivered $4.6M of EBITDA2 for the quarter (or $5.5m if also adjusted for acquisition & severance related costs).
Financial Position:
Cash generated from operating activities in Q1 was $6.2M. During the quarter, the Company paid $1.4M in net finance payments and $0.1M in capital expenditure. At March 31, 2020, the Company had unrestricted cash and cash equivalents of $67.0M (unaudited), compared to unrestricted cash and cash equivalents at December 31, 2019 of $65.2M (audited).
Business Highlights:
Aegerion integration completed successfully and ahead of schedule
In February 2020, we announced that we had confidentially submitted a draft registration statement on Form F-1 to the SEC relating to the proposed listing of ADSs representing Amryt ordinary shares on the Nasdaq
Enrolment concluded in EASE, a global pivotal Phase 3 trial in patients with dystrophic and junctional EB. Top-line data from this study is expected in late Q3 / early Q4 2020
In May 2020, FILSUVEZ® was confirmed as the global brand name for AP101. Establishing the brand name for AP101 is another important step forward in ensuring readiness for the global launch of FILSUVEZ®
COVID-19 Update
The primary concern of all the Amryt team is to ensure the safety of our colleagues, their families and our patients and partners at this time. Global healthcare systems are operating at or close to full capacity and the focus within systems now is to treat those patients in need of acute care. Amryt's business lends itself to remote working and in recent weeks, we have successfully transitioned appropriate functions to remote platforms exclusively without incident. The impact of COVID-19 to date on Amryt's business has been minimized and this is a result of deploying contingency plans already in place for a variety of scenarios and challenges which may occur.
Amryt provides therapeutic products to Homozygous Familial Hypercholesterolaemia ("HoFH") and lipodystrophy patients globally on a recurring basis. Once lomitapide (for the treatment of HoFH) or metreleptin (for the treatment of lipodystrophy) are prescribed by physicians, patients are typically on treatment over a long period of time with repeat prescriptions for each patient. As such, the majority of our revenues are recurring in nature. During the pandemic our sales teams' deployment in the field is restricted and we continue to evaluate remote and virtual physician access as a means to identify new patients that may be suitable for treatment with our products.
Amryt has in excess of 12 months of labelled and unlabelled finished products on hand for both lomitapide and metreleptin. Our supply chain is robust and we are confident that we can continue to supply patients for the foreseeable future. We are taking additional steps to further strengthen our inventory levels of both metreleptin and lomitapide. To date, we have not experienced any significant logistical difficulties in delivering product to patients. In major markets such as the USA, the UK and Germany, product has historically been delivered direct to patients' homes. In other markets, product has typically been delivered to local hospitals/distributors and we are continuing to explore opportunities to expand direct to home delivery in these markets.
Amryt Investor Videos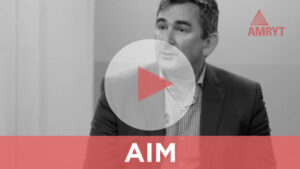 Click here to view Amryt Investor Relations Videos