Amryt Pharma: Final Results
Final Results
"Transformational year of performance and growth for Amryt"
Aegerion integration completed successfully and ahead of schedule
Business performing ahead of expectations
Strong year end cash balances of $65.2M
Unaudited combined revenues of $154.1M in 2019, an increase of 13.1% on 2018 unaudited combined revenues of $136.3M1
The Company has also today separately issued Q1 results for 2020
Amryt, a global, commercial-stage biopharmaceutical company dedicated to developing and commercializing novel therapeutics to treat patients suffering from serious and life-threatening rare diseases, today announces audited results for the year ended December 31, 2019. These audited results include the full year results for Amryt which include contributions from the legacy Aegerion Pharmaceuticals, Inc. ("Aegerion") business beginning on the date of acquisition on September 24, 2019.
Dr Joe Wiley, CEO of Amryt, commented:
"2019 was a truly transformational year for Amryt. Post the Aegerion acquisition, we now have two substantial revenue-generating products which generated 2019 combined revenues of $154.1M representing a 13.1% increase on the 2018 combined revenues, an international commercial business in the US, Europe, the Middle East and Latin America, a strong pipeline of development and life-cycle opportunities in areas of significant high unmet medical need, and the financial flexibility to execute on our growth plans. Amryt is now very well positioned to execute on our strategy of becoming a global leader in rare and orphan diseases and most importantly, delivering therapies to patients with high unmet needs.
I would like to take this opportunity to thank all our stakeholders for their commitment and support during 2019 and beyond."
2019 Financial Highlights:
The 2019 audited financial results reflect the acquisition of Aegerion from September 24, 2019 and are not reflective of the performance of the combined businesses for a full year. Total reported revenues of $58.1M reflect sales of the legacy Amryt business for the full financial year, plus sales of the acquired Aegerion business with effect from September 24, 2019.
To aid comparison, we also report unaudited combined revenues* that reflect the combined businesses, had they been integrated for a full financial year. On this basis, the unaudited combined revenues for 2019 would have been $154.1M representing a growth rate of 13.1% on 2018 unaudited combined revenues of $136.3M.
Myalept® / Myalepta® (metreleptin) generated revenues of $85.4M (2018: $71.4M) representing an increase of 19.6%
Juxtapid®/Lojuxta® (lomitapide) generated revenues of $68.0M (2018: $64.0M), representing a growth rate of 6.3%
The significant growth in metreleptin revenues was driven by the ongoing rollout of Myalepta® in Europe following the approval of the product by the European Medicines Agency in Q3 2018
*Unaudited combined revenues for 2018 and 2019 represent the combined unaudited revenues of the Company assuming the acquisition by Amryt of Aegerion occurred on 1 January 2018. It also (i) excludes revenues from sales to end-users in Japan following the out-licencing of Juxtapid to Recordati in February 2019, (ii) excludes up-front payments from Recordati in 2019, and (iii) includes a 22.5% royalty on Japanese sales of Juxtapid from 1 January 2018 as if the Recordati agreement was in place from that date.
Amryt Investor Videos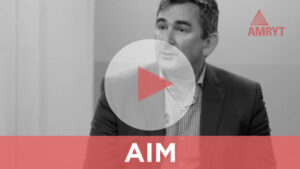 Click here to view Amryt Investor Relations Videos