Supermarket Income REIT: Results of Equity Issue
The Board of Supermarket Income REIT plc is pleased to announce that it has successfully raised £139.8 million in a substantially oversubscribed issue of 135,748,028 New Ordinary Shares at 103 pence per New Ordinary Share.
After careful consideration of the level and quality of demand in the Issue alongside the possibility of acquiring additional assets, the Board determined to increase the size of the Issue to £139.8 million. Notwithstanding the increased size of the Issue, investor demand substantially exceeded the gross proceeds raised and as such a scaling back exercise was undertaken.
An application will be made for 135,748,028 of the New Ordinary Shares to be admitted to trading on the Specialist Fund Segment of the London Stock Exchange's Main Market for listed securities ("Admission"). It is expected that Admission will take effect, and dealings in the New Ordinary Shares will commence at 8.00 a.m. (London time) on 30 April 2020.
The New Ordinary Shares will, when issued be credited as fully paid and will rank pari passu with the Existing Ordinary Shares, including the right to receive all future dividends and distributions declared, made or paid after Admission.
Immediately following Admission, the Company will have 473,620,462 Ordinary Shares in issue and therefore the total voting rights in the Company will be 473,620,462. This figure may be used by Shareholders as the denominator for the calculations by which they may determine whether or not they are required to notify their interest in, or a change to their interest in, the share capital of the Company under the FCA's Disclosure Guidance and Transparency Rules.
Certain Directors of the Company have participated in the Issue. Details of such subscriptions in the Issue are as follows:
Nick Hewson* – (Shares subscribed for) 68,925 (Shares Held) 468,525
Jon Austen – (Shares subscribed for) 24,270 (Shares Held)  144,270
Cathryn Vanderspar – (Shares subscribed for) 19,418 (Shares Held) 19,418
*Nick Hewson's number of shares held after the Issue includes his children's holdings
The Company shortly will also be making a notification and public disclosure of transactions by the Directors and persons discharging managerial responsibilities and persons closely associated with them in accordance with the requirements of the EU Market Abuse Regulation giving more details of the above dealings.
Supermarket Income REIT Video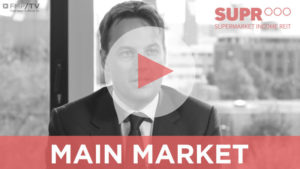 Click here to view Supermarket Income REIT investor relations films