Video: Justin King, Former CEO of Sainsbury's Discusses The Impact of Covid-19 On The Grocery Sector
We recently interviewed Justin King, the former CEO of Sainsbury's, and now an advisor to the Supermarket Income REIT which is listed on the London Stock Exchange with the ticker LON: SUPR. Steve Windsor from Atrato Capital, the advisor for SUPR also joined the discussion.
In the video below Justin and Steve discuss the impact of Covid-19 on the grocery sector; the outlook for profits, dividends and share prices at Sainsbury's,  Tesco, Ocado and Morrisons.
ABOUT SUPERMARKET INCOME REIT
Supermarket Income REIT plc (LSE: SUPR) is a real estate investment trust dedicated to investing in supermarket real estate. It's portfolio consists of the UK's biggest supermarkets, specifically stores that cate for both in-store and online purchases. SUPR provides investors with long-dated, secure, inflation-linked income with capital appreciation potential over the longer term.
Supermarket Income Reit Investor Videos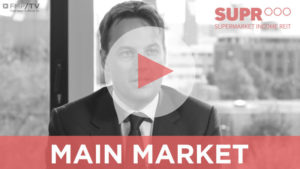 Click here to view LON: SUPR Investor Relations Videos