RBG Holdings: Litigation Investment Update
RBG Holdings plc (AIM: RBGP), the professional services group, which includes one of the UK's pioneering law firms, Rosenblatt Limited ("RBL"), today provides an update on the progress of its internally funded litigation cases.
The Group has invested £3.1 million of cash and £3.7 million of contingent (unbilled) time in three cases. RBL is handling each case, all of which have successfully progressed since the last update:
Project Neptune
Judgment has been handed down in Project Neptune in favour of the Group's clients. RBL has run the case on behalf of well-respected insolvency practitioners in a dispute with several leading UK financial institutions. There is a consequential hearing to determine the costs to be awarded. The case remains ongoing as the defendant has applied for permission to appeal, which has not yet been granted.
This project was acquired by RBL during the IPO and is being conducted pursuant to a Conditional Fee Agreement ("CFA"). RBL has work in progress, or time, of £2.1 million invested which has not been billed. Should the judgment be upheld, RBL expects to charge fees of £4.2 million. Should the permission to appeal be granted, then RBL will be paid by the client in the usual way.
Project Shango
RBL has been successful in an interim hearing for the case known as Project Shango. The case will now be heard in the English Courts, subject to appeal. Project Shango is a class action against a multinational company for the damage caused following an accident at one of the company's international sites.
This project is a collaboration between RBL and an intermediary law firm under a Damages Based Agreement ("DBA"). The amount claimed is for over £1 billion. To date, the Group has advanced £3 million in cash and has contingent work in progress of a further £1.4 million. The case is likely to run well into 2021.
Project Blue Sky
Earlier this year, the Group announced the settlement of Project Blue Sky, a DBA for a shareholder dispute case. The return on the Group's investment was 184% with an IRR of 317%.
Project Mercury
There is no update on Project Mercury.
Year-end results
Further information on the cases will be provided in the Group's results for the year ended 31 December 2019 expected to be released on 21 April 2020.
Nicola Foulston, CEO, RBG Holdings, said:
"The opportunities and returns to date for our litigation investment division continue to grow. Following the IPO, we have achieved successful outcomes in three cases so far. Rosenblatt started to take on contingent work such as CFAs and DBAs in 2011 and our accumulated experience and core expertise allows us to select carefully cases that we choose to fund and de-risk them. To that end, we have won 19 out of 22 cases that have concluded to date. While the current lockdown is slowing the progress of some cases, our teams remain busy, not only on existing casework but also on new instructions as clients look to handle the difficulties caused by COVID-19."
RBG Holdings September 2019 Investor Update Video
RBG Holdings is listed on London's AIM stock exchange with the ticker LON: RBGP.
RGB Holdings Investor Videos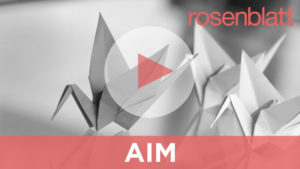 Click here to view RGB Holdings Investor Videos