Supermarket Income REIT: Proposed Issue of Ordinary Shares
The Board of Supermarket Income REIT plc, the real estate investment trust providing secure, inflation-protected, long income from grocery propert y in the UK announces its intention to raise approximately £ 75 million by way of an issue pursuant to the Placing Programme, at 103 pence per New Ordinary Share (the "Issue").
Highlights
The issue price of 103 pence per share (the "Issue Price") represents a discount of 5.7 per cent. to the closing price of 109.25 pence per existing Ordinary Share on 8 April 2020 (being the last business day prior to this Announcement) and a 6.2 per cent. premium to the Company's last reported NAV per Ordinary Share as at 31 December 2019 of 97 pence
The New Ordinary Shares will qualify for the third quarterly dividend of 1.46 pence relating to the period from 1 January 2020 to 31 March 2020, which was declared on 8 April 2020 and is due to be paid on 22 May 2020 (record date: 1 May 2020). This constitutes an annualised dividend of 5.8 pence for the financial year, representing an implied yield of 5.6 per cent. based on an issue price of 103 pence
The Investment Adviser is currently seeing the following attractive opportunities across the marketplace:

two assets with an aggregate value of approximately £115 million (the " Target Assets"). The Investment Adviser has undertaken its own initial due diligence in respect of the Target Assets and is in advanced discussions with the owners
a further pipeline of assets has been identified with an aggregate value of approximately £180 million that meet the Company's stringent acquisition criteria (the "Pipeline")
the Target Assets and the Pipeline present multiple investment opportunities, which will give visibility on current pricing and optionality if acceptable terms cannot be reached with its preferred vendors
the Investment Adviser will continue to explore investment opportunities across the market, owing to its reputation in the supermarket real estate sector, it is well positioned to source asset opportunities which could, for example, come to market from vendors who need liquidity to fund redemption requests

The £75 million target issue size, and associated debt, should enable the Company to purchase the Target Assets. If the target issue size is exceeded, the Company will consider the possibility of acquiring additional assets in the Pipeline. When making this decision the Company will consider, inter alia, the level and quality of demand in the Issue, the near-term availability of the assets at the right price, and the projected financial position of the Company following the fundraise
The Issue is being conducted in accordance with the terms and conditions set out in the appendix (the "Appendix") to this announcement (together, the "Announcement"). The prospectus published on 12 September 2019 (the "Prospectus"), is due to be supplemented by a supplementary prospectus, which is expected to be published shortly following approval by the Financial Conduct Authority (the "Supplementary Prospectus").
Nick Hewson, Chairman of the Company, said:
"The ability of omnichannel supermarkets to supply the local communities they serve has never been more important than it is now in response to Covid-19. As a board, we are fortunate during these difficult times to be able to raise capital to offer liquidity to vendors of supermarkets who may need the proceeds for other purposes. With the sector trading robustly in the current climate, our investment strategy remains focused on delivering stable, long-term, inflation-protected income through investing in the future model of UK Grocery."
Supermarket Income REIT Video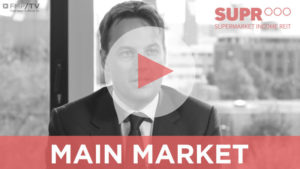 Click here to view Supermarket Income REIT investor relations films