VIDEO: eEnergy Group Trading Update
A trading update from eEnergy (LON: EAAS). In the video below, CEO Harvey Sinclair provides a trading update for eEnergy Group PLC, discussing the rate of new contracts wins, and how the business is handling the impact of COVID-19.
VIDEO: eEnergy Group contract wins, COVID-19, and the education sector
Between 1 January 2020 to 3 April 2020, eEnergy signed 48 new contracts. This includes 21 schools in the UK and Ireland. Combined, eEnergy expects to save these 21 schools over £360,000 in energy costs and 618 tonnes in carbon emissions each year. These new contracts include some of the UK's leading independent schools such as Marlborough College in Wiltshire and Wycliffe College in Gloucestershire. Other notable contracts in the UK are the Group's first project with a Multi-Academy Trust and with some state primary schools.
Notably, the business has generated €12.5m of new proposals in the same period, with an average 40% of proposals to UK schools being converted to signed contracts. The median lead time to convert each proposal into a signed contract has been reduced by 25% to 35 days. eEnergy is actively engaged with over 150 school proposals.
The education sector appears to have remained fairly resilient during the COVID-19 crisis, with many schools staying opening, albeit on a reeduced basis. As a result no signed projects have been cancelled, although some school installations have been postponed until the summer holidays. However there has been a spike in interest in eLight's LaaS proposition. Many schools are looking to complete maintenance and upgrade projects, including switching to LED lighting, in what may be an extended period with either no or reduced numbers of pupils and staff on at school. eEnergy is  even offering new LaaS clients a three-month payment rebate as an incentive to accelerate their transition to LED lighting. This incentive is being combined with a deep hygiene clean to reduce the risk of future COVID-19 infections.
The company has taken appropriate action to protect its client and customers during the crisis. All eEnergy employees are working remotely, whilst its installation partners are observing all social distancing precautions when it is appropriate to work.
The Board believes that its strategy of targeting the education sector remains a huge opportunity for eEnergy. At present, c.80% of schools have not transitioned to energy-efficient lighting. In Ireland, the sales strategy is being rebalanced away from the Commercial SME sector, which has been hit hardest by COVID-19, towards public sector schools in Ireland and Northern Ireland. The Board expects these will reopen for the Group to work with, before the Commercial SME sector.
In each month in the quarter, the Group secured contracts worth approximately €1 million, which is 2.5 times that for the same period of the prior year and is in line with market expectations.
Based on the estimated pipeline, the Board anticipates maintaining the average level of contract order intake through to the end of the calendar year, despite the impact of COVID-19.
However, the impact of some installations being delayed until the Summer means that revenues will be generated later than expected. This will push back the Group's operating profit breakeven point to the second half of 2020. This shift will have a negative impact on revenues and earnings for the financial year ending 30 June 2020.
The Group has a strong balance sheet with cash of €1.4m as at 31 March 2020.
eEnergy Investor Videos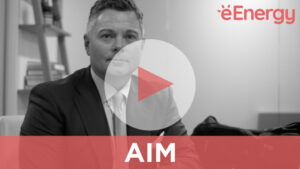 Click here to view LON: EAAS videos