JLEN: COVID-19 Update
JLEN, the listed environmental infrastructure fund, issues an update regarding its response to the COVID-19 outbreak.
The Board of JLEN is working closely with its Investment Adviser, Foresight Group ("Foresight"), and all key service providers to monitor the emerging threat of COVID-19 on the global economy and potential impact on the Company's portfolio. During this evolving and unprecedented crisis, the health and safety of all employees, Company stakeholders and their staff is of primary importance.
Foresight has conducted a review of all major service providers and operational counterparties and can confirm that their Business Continuity Plans are satisfactory and are operating effectively.
The JLEN portfolio has made a positive start to the calendar year, with generation approximately 15% over budget including very strong performance from the wind assets due to good wind resource.
Foresight anticipates that there may be a further short-term reduction in power prices due to an anticipated drop in demand. However, power prices are forecast to improve over the medium-term. JLEN's diversified portfolio has a relatively low level of exposure to wholesale power prices with only one third of the Company's underlying revenues coming from the sale of wholesale power. JLEN currently has fixed price or floor arrangements covering 49% of electricity generation for the upcoming summer 2020 season and 48% for winter 2020/21.
The Company is in a strong financial position and is conservatively geared both in relation to its Revolving Credit Facility ("RCF"), which is currently £17 million drawn and is not due to be refinanced until June 2022, and at a portfolio company level where all project debt is on a long-term, fully amortising basis with no need for refinancing.
Operations at its wind, solar, anaerobic digestion and hydro assets have not experienced any material interruption and all assets are performing as expected. The Company's food waste project, which represents less than 5% of its portfolio and is ungeared, has seen a reduction to its commercial food waste collections while residential food waste supply remains stable. Foresight is monitoring the impact of this closely. The Company's counterparties have implemented measures that enable the continued maintenance and operation of JLEN's assets while taking appropriate steps to ensure the health, safety and wellbeing of the those involved.
The Company currently sees no material long-term impact from COVID-19 on its ability to continue to meet its investment objectives.
The Company reaffirms its guidance for a full-year dividend of 6.66p for the current financial year to 31 March 2020, including a quarterly dividend of 1.665p to be paid for the period January to March 2020 and, in line with the Company's usual reporting cycle, will announce its target dividend for the 12 months to 31 March 2021 in its Final Results, which will be published in June 2020.
The situation in relation to COVID-19 continues to evolve. However, JLEN and its assets are in a strong position to manage through this period of turbulence and we will keep shareholders updated as appropriate.
An Overview of Environmental Investor JLEN
JLEN Investor Videos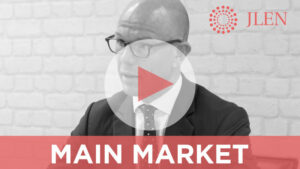 Click here to view JLEN Investor Relations Videos