Video – Bango plc financial & strategy update
VIDEO: BANGO PLC FINANCIAL & STRATEGY UPDATE
FINANCIAL RESULTS – YEAR ENDED 31 DECEMBER 2019
The film features an interview with CFO Carolyn Rand and CEO Paul Larbey, in which they update investors on The Group's financial, operational and strategic progress. AIM Listed Bango (AIM:BGO) made big strides in 2019. End User Spend (EUS) which is used by Bango as a key performance indicator doubled for the 5th year in a row, with Bango processing around £1.1bn of transactions in 2019. The company increased EBITDA, and maintained a stable cost base. Costs were up slightly due to investment in its data business.
The management often refer to Bango's virtuous circle, which can be explained as follows:
Bango provides the technology which powers the payments for goliaths such as Google, Amazon and Youtube TV.
The data from these payments is collected and processed into a form which makes marketing more efficient for developers and merchants. As an example of this, Bango runs a service called 'Bango Marketplace'. This allows app and game developers to target facebook audiences with a history of paying for apps & games (uniquely Bango has a record of which audiences pay for advertised products, rather than just browsing or 'liking').
Merchants use Bango's data to generate more payments, which in turn generates more data from the payments. This is in turn fed back to Bango's machine – and so on and so forth.
The video covers Bango's financial year for the 12 months ending 31 December 2019.
Bango Investors Videos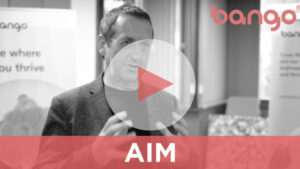 Click here for more Bango investor videos