JLEN: Result of Placing
The Board of JLEN Environmental Assets Group Limited ("JLEN" or the "Company") is pleased to announce that the Company has successfully raised £57.2 million pursuant to the placing (the "Placing") announced on 11 February 2020 (the "Placing Announcement"). Accordingly, the Company will issue a total of 49,701,820 New Ordinary Shares at the placing price, which has been set at 115 pence per New Ordinary Share.
The Placing was significantly oversubscribed and, as a result, applications have been scaled back in line with the terms and conditions of the Placing set out in the Placing Announcement. Any Placing applications at a price below the Issue Price have not been accepted.
JLEN intends to use the net proceeds of the Placing to repay amounts drawn under its revolving credit facility in order to finance an identified pipeline of near-term opportunities across the bioenergy and flexible generation sectors, further diversifying the Company's portfolio. JLEN is committed to securing opportunities which deliver long-term predictable cash flows and are supported by long-term contracts or stable and well-proven regulatory and legal frameworks.
Applications have been made to the Financial Conduct Authority for admission of the New Ordinary Shares to the premium segment of the Official List and to the London Stock Exchange for admission to trading of the New Ordinary Shares on its main market for listed securities ("Admission"). It is expected that Admission will become effective at or around 8.00 a.m. on 3 March 2020 and that dealings in the New Ordinary Shares will commence at that time.
The New Ordinary Shares will, when issued, be credited as fully paid and rank pari passu with the existing Ordinary Shares in the capital of the Company, including the right to receive all future dividends and distributions declared, made or paid, save for the dividend for the quarter to 31 December 2019 which is expected to be paid on 13 March 2020.
Immediately following Admission, the Company's issued share capital will consist of 546,720,025 Ordinary Shares with voting rights. This figure may be used by shareholders in determining the denominator for the calculation by which they will establish if they are required to notify their interest in, or a change to their interest in, the Company under the FCA's Disclosure Guidance and Transparency Rules.
The Placing is conditional, among other things, on Admission being effective and the Placing Agreement not being terminated in accordance with its terms.
Terms used in this announcement shall, unless the context otherwise requires, bear the meanings given to them in the Placing Announcement, which can be found on JLEN's website at www.jlen.com
An Overview of Environmental Investor JLEN
JLEN Investor Videos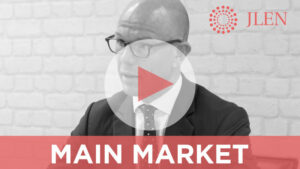 Click here to view JLEN Investor Relations Videos