Supermarket Income REIT: Acquisition of a Sainsbury's Supermarket for £34m
Supermarket Income REIT (LSE: SUPR), the UK supermarket real estate investor, announces the acquisition of a Sainsbury's store in Hessle from Reassure Limited for £34.0 million (excluding acquisition costs), reflecting a net initial yield of 5.5%.
Originally developed in the early 1980s, Sainsbury's has a long history of trading from this prominent 13-acre site which was substantially refurbished in 2011.
The supermarket comprises 50,000 square feet net sales area with a 12-pump petrol filling station and 584 parking spaces. The store has purpose-built online fulfilment docks and supports Sainsbury's online grocery fulfilment for the surrounding area. It is being acquired with an unexpired lease term of 14 years with annual, upward-only, RPI-linked rent reviews (subject to a cap and floor).
Included in the purchase price is an adjoining Homebase store comprising 21,000 square feet net sales area with an unexpired lease term of four years. Sainsbury's guarantee the Homebase rent for the duration of the lease. Consequently, the combined total net initial yield on this purchase of the Sainsbury's in Hessle, including the rental income from the Homebase, will be 6.3%.
Ben Green, Director of Atrato Capital, the Investment Advisor to Supermarket Income REIT, said:
"This Sainsbury's superstore is ideally located for both online and offline grocery sales and adds to Supermarket Income REIT's growing portfolio of omnichannel stores."
Supermarket Income REIT Video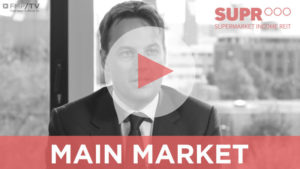 Click here to view Supermarket Income REIT investor relations films