HVPE: Net Asset Value
Estimated NAV of $26.92 (£20.38) per share, flat in USD during January
Net investor during month with a net $34 million invested
$130.6 million of cash on balance sheet
HarbourVest Global Private Equity Limited ("HVPE" or the "Company"), a closed-end investment company, today announces its estimated Net Asset Value ("NAV") at 31 January 2020.
HVPE provides a complete private equity solution for public investors, managing the portfolio through four phases of the private equity cycle to create value: Commitments, Investment, Growth, and Realisation.
Commitments
During January, HVPE did not make any new commitments to HarbourVest-managed funds. The Company's existing HarbourVest fund commitments continued to make new investments.
HVPE's Investment Pipeline (unfunded commitments) decreased on a net basis by $37.6 million during January based on capital funded and foreign exchange rate movement.
Investment
During January, HVPE invested $36.7 million in HarbourVest funds (compared to $39.6 million in December 2019). The largest investment was made to the latest HarbourVest US-focused buyout fund-of-funds.
Growth
At 31 January 2020, HVPE's estimated NAV per share was $26.92 (£20.38), unchanged in US dollar terms and £0.07 increase in sterling terms from the 31 December 2019 estimate of $26.92 (£20.31). The flat January NAV in US dollars resulted from negative foreign exchange rate movement and operating expenses offsetting valuation gains in the fund-of-funds.
Realisation
HVPE received $2.6 million of distributions from HarbourVest funds during January 2020, compared to a particularly strong $56.9 million in December 2019. The largest source of distributions in the month was from the co-investment in Conversus Capital. During January, there were a total of 20 liquidity events across HVPE's underlying portfolio compared to December's 25 events, and a last 12-month average of 28.
Balance Sheet and Credit Facility
HVPE currently has no drawings on its credit facility. At 31 January 2020, HVPE's cash ($130.6 million) and available credit ($600.0 million) totalled $730.6 million.
Additional detail about HVPE's NAV and investment diversification can be found on HVPE's website, in the Monthly Update for 31 January 2020.
Investor Update Video – HVPE Interim Results
Harbourvest Investors Videos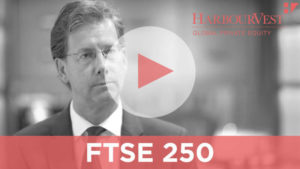 Click here for HarbourVest Investor videos and news