Supermarket Income REIT: Half Year Report
Supermarket Income REIT plc (LSE: SUPR), the real estate investment trust dedicated to investing in property which enables the future model of UK grocery, is today reporting its interim results for the Group for the six months ended 31 December 2019.
FINANCIAL HIGHLIGHTS
Six months to 31-Dec-19
Annualised passing rent UP 59%  to £26.1m (2018: £16.5m)
EPRA Earnings UP 53% to £7.2m (2018: £4.7m)
Total Shareholder Return UP 11% to 4% (2018: -4%)
Quarterly dividend per share UP 2.9% to 1.46p (2018: 1.42p)
EPRA EPS: 2.5 p (2018: 2.5p )
Total net assets: UP 42% to £328.0m (2018: £230.5m)
Loan to value: DOWN 11% to 32.4% (2018: 43.0%)
EPRA NAV per share: 97p (2018: 97p)
Portfolio net initial yield: UP 0.1% to 5.0% (2018: 4.9%)
Other highlights
7% Total Shareholder Return for the Period and 24% since the initial listing in July 2017
Two quarterly dividends declared for the Period totalling 2.9 pence per ordinary share (six months to 31 December 2018: 2.8 pence per ordinary share)

Quarterly dividends up 2.9% since September 2019, in line with UK RPI inflation
On track to deliver full-year target dividend of 5.8 pence per share

Investment properties independently valued at £490.4 million (30 June 2019: £368.2 million)

Growth of 1.6% on a like-for-like basis for the six-month period
Portfolio net initial yield of 5.0% reflects yield accretive acquisitions
BUSINESS HIGHLIGHTS
£100 million in equity raised via an upsized and over-subscribed Placing and Offer for Subscription in October 2019
Acquisition of two complementary omnichannel supermarket assets at an aggregate purchase price of £114.8 million

New assets average acquisition net initial yield ("NIY") of 5.2% versus Portfolio average of 4.9%
No change to Portfolio weighted unexpired lease term ("WAULT") of 18 years
Both leases have RPI linked rent reviews

The Investment Advisor entered into a strategic partnership with EVO Energy to evaluate and execute projects to reduce the environmental impact of the Company's store portfolio
Agreed heads of terms with Tesco PLC for the installation of a rooftop solar array at the Company's Thetford store
Agreed a new £76.6 million debt facility provided by Deka Bank, with a fixed interest rate of 1.9% for the five-year term of the facility
Net loan to value ("LTV") ratio of 32.4% as at 31 December 2019, with a weighted current cost of debt of 2.2%
Net Asset Value ("NAV") per ordinary share of 97 pence as at 31 December 2019
Nick Hewson, Chairman of Supermarket Income REIT plc, commented:
"I am delighted to report another period of solid performance by the Group during which we have generated a 7% total return for our shareholders.
The contracted RPI rental uplifts in all our leases continues to provide inflation-protected income and allows us to deliver on our inflation-linked dividend growth targets. I am pleased that we have once again increased our quarterly dividend by 2.9% in line with RPI. We remain on track to deliver an annualised dividend of 5.8 pence per ordinary share for the financial year.
Since our IPO in July 2017, we have delivered a Total Shareholder Return of 24% for our shareholders. We continue to offer investors stable, long-term, inflation-protected income, supported by a compelling real estate opportunity."
Supermarket Income REIT Video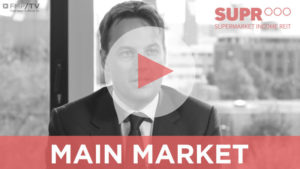 Click here to view Supermarket Income REIT investor relations films