Base Resources: Quarterly Activities Report
Key Points
Kwale Operations FY20 production guidance increased on sustained improved recoveries and higher rutile in the assemblage.
Market conditions continue to support strengthening rutile and ilmenite prices.
Kwale North Dune concept study findings support progression to a pre-feasibility study.
Toliara Project DFS outcomes released, reinforcing the Company's view that the Toliara Project is a world class mineral sands project.
Toliara Project drilling reveals significant additional high-grade mineralisation.
Government of Madagascar suspends on-the-ground activity at the Toliara Project whilst discussions on fiscal terms applying to the project are progressed.
An incident with Kwale Operations' haulage contractor resulted in a fatality on a public road.
African mineral sands producer, Base Resources Limited (ASX & AIM: BSE) (Base Resources or the Company) is pleased to provide a quarterly operational, development and corporate update.
Kwale Mineral Sands Operations (Kwale Operations) in Kenya steadily increased production following a ramp up in mining operations last quarter after the successful transition of mining operations to the South Dune orebody. As expected, heavy mineral (HM) grades increased as mining advanced from the lower grade fringes towards the centre of the orebody.
The definitive feasibility study (DFS) for the Toliara mineral sands project (Toliara Project) in the south-west of Madagascar was released in December 2019, reinforcing the Company's view that the project is a world class mineral sands development and confirming the findings of the pre-feasibility study released in March 2019.
Figures 1 and 2 referenced in this announcement have been omitted. A full PDF version of this announcement, including Figures 1 and 2, is available from the Company's website: www.baseresources.com.au.
Q4 Dec 2019 Production (tonnes)
Ilmenite – 91,406  (Q3 Sept 2019 – 73,808)
Rutile – 19,812 (Q3 Sept 2019 – 16,390)
Zircon – 7,923 (Q3 Sept 2019 -6,980)
Zircon low grade – 546 (Q3 Sept 2019 – 466)
Q4 Dec Sales (tonnes)
Ilmenite – 106,544 (Q3 Sept 2019 – 60,109)
Rutile – 13,078 (Q3 Sept 2019 – 14,018)
Zircon – 7,090 (Q3 Sept 2019 – 6,713)
Zircon low grade – 616(Q3 Sept 2019 – 839)
Full announcement here
BASE RESOURCES, INVESTORS OVERVIEW VIDEO
Base Resources Investor Videos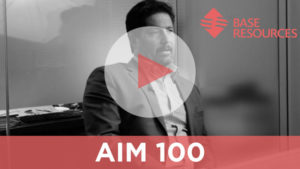 Click here for Base Resources investors Videos