AdEPT to become an Avaya Diamond Partner
As a result of sales success in the Avaya year ending 30th September AdEPT has achieved the status of top tier partner – Diamond.
AdEPT wins promotion to the top tier
Ali Hastings – Head of Channel, Avaya UKI:
"Avaya are delighted to promote AdEPT to our 'elite' Diamond status as part of the Avaya Edge partner programme in the UKI. There are only 8 Diamond partners in the UK with only 30 across EMEA, an exclusive club.
Avaya's Edge programme recognises our partners for revenue growth and investment of skills in the Avaya portfolio – enabling our key channels to deliver a superior customer experience in the market.
AdEPT have had a stellar year with substantial revenue growth YOY. We look forward to a great year ahead, with a wider Avaya portfolio, as we look to take our customers on the digital journey to cloud – our thanks go to AdEPT for their support and investment in Avaya in FY19″.
AdEPT and Avaya
The AdEPT relationship with Avaya began over 20 years ago and during that time AdEPT have had no hesitation in recommending Avaya voice solutions to customers that demand scalability, reliability and functionality from either a cloud or on-premise solution.
Avaya solutions range from relatively simple IP telephony solutions to full UC (Unified Communications) deployments. With solutions that encompass; messaging, chat, audio, video, conferencing & collaboration.
Avaya have an excellent record of staying at the forefront of technology and the requirements of the growing AdEPT customer base. With clients such as HCA, Somerset House, Beaumont Business Centre's and Islington Borough Council the Avaya solutions have been an important part of the AdEPT portfolio for many years.
An Exclusive Club
Richard Burbage – Managing Director, AdEPT Communications comments:
"It is incredibly satisfying to see Avaya recognise our achievements by awarding AdEPT Diamond status. This promotes AdEPT to an exclusive club of resellers in EMEA (Europe, Middle East & Africa).
This enhanced relationship will only further strengthen our engagement with Avaya and improve our ability to satisfy the dynamic requirements of our customers".
AdEPT Technology Investor Videos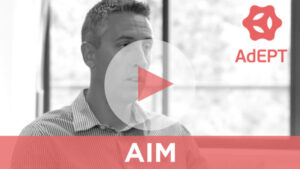 Click here to view LON: ADT Investor Relations Videos