AdEPT Technology: Directorate Change
AdEPT (AIM: ADT), one of the UK's leading independent providers of managed services for IT, unified communications, connectivity, voice and cloud services, announces that Craig Wilson has been appointed as a non-executive director of the Company with immediate effect.
Craig was formerly Chief Executive Officer of Xchanging plc ("Xchanging") and during his 37 years in the IT Services arena led some of the largest Managed Services companies in the UK including; EDS, Hewlett-Packard Enterprise Services and CSC.
Craig has extensive experience in Business Process Outsourcing (BPO), IT Services and Software, running businesses with up to £3bn in annual revenue and 14,000 staff.
Given that AdEPT has over 40% of revenues related to the Public Sector Craig's expertise in this arena is highly relevant with experience spanning; Department for Work and Pensions, HM Revenue & Customs, Ministry of Defence and Ministry of Justice.
Craig is a Fellow of the British Computer Society, a Chartered Engineer, Chartered IT Professional and holds an MBA and BSC.
Craig Wilson, Non-Executive Director commented:
"I'm joining AdEPT at a fascinating time. With successful acquisitions under its belt, a clear strategy to become a leading 'platform play' and a strength in both public and private markets, there are strong foundations to build on. I look forward to working with the Board to capitalise on these capabilities."
Ian Fishwick, Chairman said,
"We are delighted that Craig has decided to join AdEPT. We have deliberately created a business with a broad spread of ICT capabilities to serve the needs of our clients. Craig's expertise in the ICT arena and knowledge of the Public Sector marketplace will significantly strengthen the Board. I would like to welcome Craig to the AdEPT team."
The following additional information is provided in accordance with paragraph (g) of Schedule Two of the AIM Rules for Companies.
Craig Alaister Wilson, aged 58, holds or has held the following directorships or partnerships in the last 5 years:
Non-Executive Director and Chairman, Kao Data Ltd. (current)
Non-Executive Director and Chairman, Harlow Operations Ltd. (current)
Chief Executive Officer, Xchanging plc (and Group Companies) (previous)
Entserv UK Limited (formerly known as Hewlett-Packard Enterprise Services (UK) Ltd) (previous)
CSC Computer Sciences Limited (previous)
No further information relating to Craig Wilson is required to be disclosed pursuant to Schedule Two, paragraph (g) of the AIM Rules
Director change – Non-Executive Director
The board of directors recognises the importance of, and is committed to, ensuring that proper standards of sound corporate governance operate throughout the Company. Accordingly, the Group is committed to compliance with the provisions of the QCA Corporate Code published by the Quoted Companies Alliance.
As part of an ongoing review of AdEPT board practices the board acknowledges the guidance to retain independent non-executive directors with an appropriate length of service. The appointment of Craig Wilson, alongside the recent appointment of Richard Bligh as a non-executive director, is intended to strengthen the board capability.
As a consequence of this review, AdEPT announces the retirement today of Dusko Lukic as a non-executive director from the Board with his position being taken by Craig Wilson. Dusko ("Dush") has been a member of the AdEPT Board for 13 years as the senior independent non-executive director. He was also Chairman of the AdEPT Audit and Remuneration and Nomination Committees.
Ian Fishwick, Chairman said, "It has been an absolute delight to work with Dush for so many years. He has been central to agreeing a clear strategy and implementation plan and he has seen the business grow substantially since he joined us at our IPO in 2006. We wish him every success in the future and thank him for his outstanding contribution. He is a big part of our history".
AdEPT Technology Investor Videos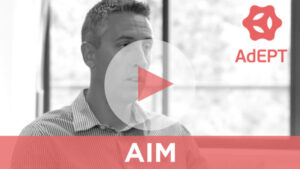 Click here to view LON: ADT Investor Relations Videos