Emmerson: MoU for Electrical Power Signed
Emmerson Plc, the Moroccan focused potash development company, is pleased to announce that it has signed a Memorandum of Understanding ("MOU") with Voltalia (www.voltalia.com) to examine the potential for the provision of electricity to its 100% owned Khemisset Potash Project in Northern Morocco ("Khemisset" or "the Project").
Highlights
Exclusive Memorandum of Understanding signed with internationally integrated renewable energy developer Voltalia to examine potential for electrical supply from renewable sources
Potential reduction of electrical power costs would enhance Project economics relative to Scoping Study, further improving the Khemisset's already outstanding post tax NPV10 of US$1.14bn*
Moroccan legislation provides an attractive and practical framework to incentivise energy developers and industrial companies to develop renewable sources of electricity
No additional capital costs or operating risk for Emmerson as electricity would be supplied over the Moroccan energy transmission grid
Supports Emmerson's goal of developing a sustainable, low capital cost, mine with focus on mitigating environmental impacts
Supports Voltalia's efforts in securing a market for its renewable energy projects in Morocco
Hayden Locke, CEO of Emmerson, commented:
"We continue to examine various options to optimise the industry leading capital cost Khemisset Potash Project's potential as we advance it towards full feasibility. Based on early discussions, a renewable electricity contract has the potential to deliver significant cost savings on electricity consumption compared to the assumptions used in the Scoping Study. Given electricity accounts for around a third of Khemisset's cash operating cost, the potential improvement to the Project's already outstanding economics, which includes an average life of mine EBITDA of US$236 million per annum1, could be extremely meaningful."
"Morocco has an ambitious target of generating over 50% of its electricity needs from renewable sources by 2030 and has implemented a number of regulatory changes to provide incentives for this to happen. Voltalia is a global leader in renewable energy development and has a significant presence in Morocco and is, therefore, an ideal partner for Emmerson as we seek to develop the world class Khemisset Potash Project."
"Importantly for Emmerson, although the agreement would be for the purchase of electricity from Voltalia, the electricity would be sourced directly from the broader Moroccan energy grid, meaning that in the event that the renewable sources produced less than Khemisset's requirements, the difference could be sourced from non-renewable sources at the Moroccan regulated tariff rates."
"The Feasibility Study for Khemisset continues to progress well and we look forward to releasing key portions of the study as we move towards its completion in 1H 2020."
Detail
Emmerson has signed a MOU with Voltalia to examine the potential for the provision of renewable electricity to its Khemisset Potash Project in Northern Morocco, located in the same basin as the major Moroccan fertiliser producer OCP.
Voltalia, which is listed on Euronext, is an international, integrated, renewable energy developer with a significant global footprint, including in Morocco. It has over 1GW of installed generating capacity which it currently operates and maintains under long term contracts and has developed and sold over 1.8GW since being founded in 2005. Voltalia has several large-scale renewable projects under development in Morocco which could provide all of Khemisset's electricity requirements, based on the scale of development considered in the Scoping Study (refer announcement dated 20 November 2018).
The Moroccan Government implemented Law 13-09, which was designed to encourage investment in and the use of renewable energy sources for electricity. The law allows for a customer to establish a commercial contract directly with a renewable energy producer at a tariff which offers significant potential savings when compared to the Government regulated tariff regime.
Emmerson PLC investor relations video
Five Minute Pitch TV recently filmed Hayden Locke, CEO of Emmerson. He provides an investors overview of business in the video below – the interview focuses on Emmerson's operations, the geopolitical situation in Morocco, the global potash market and the companies forward strategy.
Emmerson PLC Investor Relations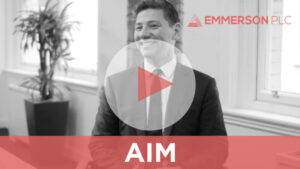 Click here to view Emmerson Investors Videos