Allergy Therapeutics Video: Strategy & Financials Update
We recently interviewed Manuel Llobet and Nick Wykeman, CEO and CFO of AIM-listed Allergy Therapeutics following the announcement of the Group's year end results. In the video below, they discuss the financialperformance, strategy and upcoming newsflow.
VIDEO: ALLERGY THERAPEUTICS FINANCIALS AND STRATEGY UPDATE
Allergy Therapeutics PLC manufactures vaccines for a range of vaccines and is revenue-generating in Europe. Allergy has increased revenues by 8% to almost £74m whilst overseeing growth in its market share across Europe. Its European growth at constant currency over the past year was 12% in Spain, 16% in the Netherlands, 13% in Austria, and 8% in Germany. A key measure for Allergy is its pre R&D operating profit, which was up 22% this year. The company also delivered a net profit of £3.5m for the year.
The net profit figure was helped by the settlement of the Inflamax court case.  Allergy Therapeutics  received compensation of £6m, plus substantial costs of £3.5m which will appear in next year's accounts. The Company's performance leaves them with a cash balance of £27.4m.
Allergy Therapeutics is aiming to build on its bank of marketable vaccines, and has a large pipeline of products which are in various stages of clinical trials. Agreement has been reached with the US FDA and European institutes on the protocol for the Phase III trials of PQ Grass. PQ grass is its grass-allergy vaccine, and trials are expected to start autumn next year.
The company recently suffered a set-back as their Birch allergy vaccine did not hit primary end-points in a Phase III trial. Manuel Llobet discusses what the company has learned from this, and the changes that will be made for future trials.
Allergy Therapeutics completed Phase I trials for Acarovac during the year. Acarovac is its house dust mite vaccine and is a short-course version of products which are currently on the market. The study showed that the product is safe, allowing it to progress to phase II trials. Finally, its peanut allergy vaccine is making progress and are set to start the first in-human trials in 2020.
Allergy Therapeutics Investors Video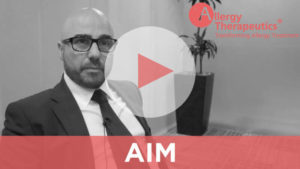 Click here to view Allergy Therapeutics investor video