Bango plc Marketplace, End Users and Partners
We recently interviewed Ray Anderson and Carolyn Rand,  CEO and CFO of Bango plc. The company has made good progress in the last six months. Revenues are up by 64%, Opex is stable and, most importantly, End User Spend ('EUS') increased by 112%.
Bango was one of the first companies behind Direct Carrier Billing (DCB), a technology which allows mobile phone users to charge purchases to their phone bill. Typically purchases will be apps and games. They have developed their business model over the years and now monetise via a wide range of services.
Bango recently launched Bango Marketplace, a technology which helps app developers target users on facebook. Bango can identify the users who are most likely to pay, and this allows app marketers to run cost-effective campaigns. The service has performed well with a nine-fold increase in registrations over the past six months. Bango Marketplace is made possible by data captured from their users, merchants and routes, all of which have been increasing. As a result, they have captured more transaction data in the last 12 months than they had in the previous five years.
Bango has recently deployed new technologies, and these are helping to build their end-user base. They recently launched a solution for subscription-based platforms, who lose large numbers of pre-paid users when they forget to top up their account. Bango's technology allows platforms to operate a conventional subscription model with these users.
The company has expanded its reach in the last six months, and opened several new routes around the world. Whereas previously Bango's service was limited to mobile operators, some fixed-line operators have recently joined Bango. They have entered new Geographies as well, opening new routes in Spain, Chile, the UAE, Singapore, the Philippines and New Zealand.
More merchants have signed up to Bango's services in the last six months. On the back of Bango's technology, Spotify's users will have the option of their subscribe via mobile bundles. AE Tolls will also be deploying Bango's technology on toll roads.
Bango are listed on the London Stock Exchange AIM Market with the ticker LON: BGO. The video below is an extract from a film we made with Ray Anderson and Carolyn Rand. In this extract Ray provides an update on Bango's strategy, operations and user growth.
VIDEO: BANGO PLC STRATEGY UPDATE
Bango Investors Videos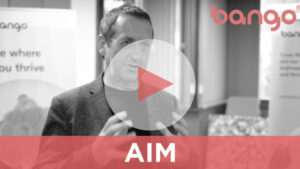 Click here for more Bango investor videos