Rosenblatt: Launches new White Collar Fraud & Financial Crime division
Rosenblatt Group plc (AIM: RBGP), the professional services group, has strengthened its offer to clients with the launch of a new White Collar Fraud & Financial Crime division. The new division will be headed by the recently appointed partner, Manraj Somal. Manraj joined Rosenblatt from KPMG LLP, where he was UK Head of Corporate Crime Legal. He will be joined by Frances Murray who previously worked at Kangs Solicitors where she was Head of the London office. At Kangs, she practiced predominantly in the area of white collar and serious crime.
The White Collar Fraud & Financial Crime division will form part of Rosenblatt's internationally renowned Dispute Resolution practice. The division will provide advice and support for individuals and companies. This support will include dealing with compliance issues, investigations (both internal and external), defending prosecutions, or helping clients who are the victims of financial crime.
Tasked with building the new division, Manraj and his team will work closely with other Rosenblatt divisions and practice areas. The division will create a new offering for the Group as it increases the areas in which Rosenblatt can support its clients.
Financial crime is an increasing threat driven by the growth of cybercrimes such as identity theft and phishing, as well more traditional forms of financial crime such as money laundering, tax evasion and fraud. According to Financial Conduct Authority estimates, the financial services industry is spending over £650 million[1] annually in dedicated staff time to combat fraud, money laundering and other financial crimes.
Nicola Foulston, CEO, Rosenblatt, said:
"The establishment of our new White Collar Fraud & Financial Crime division will increase the spheres in which we can support our clients. Financial Crime is a growing area within the legal sector, and fits within our strategy of focusing on specialist, high-margin legal work. I am delighted that we have been able to secure the services of Manraj and Frances. They bring considerable experience and will be valuable additions to our team as we look to grow this part of our business."
Manraj Somal, Partner, Rosenblatt, commented:
"I am excited and delighted to have joined Rosenblatt, and to be a part of its continued growth and success. In recent years tougher laws, more aggressive regulation and increased information sharing between the authorities globally has meant that companies are increasingly exposed to the risks of financial crime, either as a victim or as a result of the improper behaviour of their employees. The introduction of the Bribery Act in 2010 shifted criminal liability for bribery and corruption to companies. Similarly, the introduction of the Criminal Finances Act which came into force on 30 September 2017 made companies liable for failing to prevent their employees from facilitating tax evasion. In the face of maintained public pressure, enforcement authorities and regulators are taking a much more proactive approach in bringing investigations and prosecutions against both corporates and individuals. As a full service law firm and a leading dispute resolution practice, it is natural for the business to expand its capability and expertise to offer clients legal services in financial crime."
Rosenblatt Investor video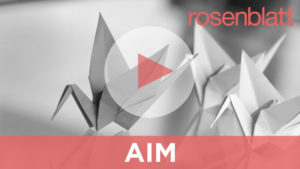 Click here for Rosenblat Investor Relations Video