OPG Power Ventures: Financial & Operational Update
OPG Power Ventures the AIM Listed the developer and operator of power plants in India, provides an operational update in a short TV interview with Group's CFO Dmitri Tsvetkov.
OPG Power Ventures: Investor Update
A strong operational performance at the Group's plants helped turned last year's loss to a profit of £14m for the year.  The strong cash generation is expected to continue and this will assist in the Board 's plans to further pay down debt, with OPG aiming to be debt-free by 2023.
The overall macro picture is generally favourable, with the Indian economy powering ahead – GDP is expected to grow at c.7% during the period 2019-2023. That said OPG will fully endorse the standards adopted by the Indian Government following the Paris Agreement and will procure best in class equipment to comply with emissions standards applied to its power plants.
With regards to fluctuations in coal prices, the board of OPG decided to secure a hedge against the volatility of price movements and has entered into a fixed price coal purchase agreement for 1 million tonnes (c. 60% of the Group's annual coal requirements). The delivery of coal under the purchase agreement started in June 2019 and will end on March 2020. This enables the group to have far greater visibility of the full year 2020 financial performance.
OPG are listed on the UK's AIM Stock Exchange with the identifier LON: OPG.
OPG Power Ventures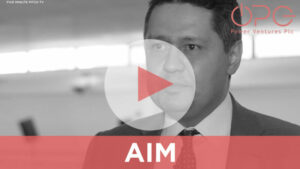 Click here to view OPG Power Ventures investor relations films