Final Results
Supermarket Income REIT plc (LSE: SUPR), the real estate investment trust dedicated to investing in property which enables the future model of UK grocery, is today reporting its audited consolidated results for the Group for the Year ended 30 June 2019 (the "Year").
FINANCIAL HIGHLIGHTS
EPRA EPS up 31.6% to 5p (2018*: 3.8p)
Quarterly dividend per share up 3.2% to 1.419p (2018: 1.375p)
EPRA NAV per share up 1% 97 pence (2018: 96p)
Total net assets up 30.4% to £230.5m (2018: £176.7m)
Annualised passing rent up 40.1% to £19.2m (2018: £13.7m)
Loan to value up 3.9% 36.3% (2018: 32.4%)
Portfolio net initial yield: 4.9% (2018: 4.9%)
Total shareholder return: 8.0% (2018: 8.0%*)
OTHER HIGHLIGHTS
8.0% total shareholder return for the Year vs UK REIT sector return of minus 6%**
Four quarterly dividends declared for the Year totaling 5.6 pence per ordinary share (2018: 5.5 pence), quarterly dividends up 3.2% since September 2018 in line with UK RPI inflation
Investment properties independently valued on 30 June 2019 at £368.2 million (2018: £264.9 million)

4.8% growth above the Portfolio acquisition price (excluding acquisition costs) and 1.3% on a Like for like basis

3.2% average rent review increase for the Year (2018: 3.6%) in line with UK RPI inflation
* 2018 comparative period is for the 13 months from 1 June 2017 to 30 June 2018
BUSINESS HIGHLIGHTS
Acquisition of two accretive omnichannel supermarket assets at an aggregate purchase price of £96.7 million:

New assets average acquisition NIY 5.1% vs Portfoilo average of 4.9%
New assets 21-year WAULT vs Portfoilo 18 year WAULT
All RPI linked rent reviews

£56.3 million total equity raised in the Year

£45.0 million oversubscribed Placing and Offer for Subscription in March 2019
£11.3 million issued in part consideration of a supermarket acquisition in April 2019

Justin King former CEO of Sainsbury's joined Atrato as Senior Advisor March 2019
POST BALANCE SHEET EVENTS
Acquisition of an eighth supermarket, a Sainsbury's superstore in Preston, Lancashire with an unexpired lease term of 23 years, for £54.4 million (net of acquisition costs), reflecting a net initial yield of 5.1%
£47.6 million debt facility and an uncommitted £40 million accordion option provided by Deka Bank, fixed at 1.9% for the five year term of the facility
For the period October to December 2019 and thereafter, an increase in the quarterly dividend target of 2.9% to 1.46 pence per share
Increased dividend target for the FY 2020 to 5.80 pence per share in line with UK RPI inflation
Nick Hewson, Chairman of Supermarket Income REIT plc, commented:
"I am delighted to report to you another year of strong performance by the Group in which we have again generated an 8% total return for our shareholders. We have continued to implement our highly specific investment strategy and deliver on our performance targets.
"In an extremely challenging market for retail commercial real estate, I am pleased that our focused strategy of investing solely in grocery assets is being recognised by the market. The Company's Total Shareholder Return of 8.0% compares favorably to a UK REIT sector return of minus 6% and over the two years since IPO our Total Shareholder Return is 16.7% against minus 1% for the sector2.
"The contracted RPI rental growth in all of our leases also means that we are able to announce our intention to again raise our dividend target from October 2019 by RPI. We are committed to providing investors stable, long-term, inflation-protected income, supported by a compelling real estate opportunity."
** FTSE EPRA NAREIT UK index
Supermarket Income REIT Video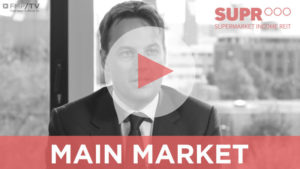 Click here to view Supermarket Income REIT investor relations films