OPG Power Ventures: Final Results
OPG (AIM: OPG), the developer and operator of power generation assets in India, announces its final results for the year ended 31 March 2019 ("FY19").
Highlights
Profit after tax was £14.0m compared with a loss of £100.9m in FY18
Total generation (including deemed) of 2.7 billion units, down 2 per cent from FY18
Revenue up 0.4% to £140.6m from £140.1m in FY18
Adjusted EBITDA of £35.3m (25.1% margin) compared with £24.7m (17.6% margin) in FY18**
Full year scrip dividend of 0.6p per share (FY18: scrip dividend of 1p per share)
Term loans principal debt repayment £20.6m (5.3 pence per share)
Borrowings reduced with gross debt of £80.4m*, compared to £93.5m at 31 March 2018
Arvind Gupta, Executive Chairman said:
"The outlook for the Indian economy in general and the power sector in particular continues to be buoyant. OPG's business in FY19 performed well both operationally and financially. We are maintaining our strategy to build value for shareholders by repaying borrowings. In the year under review we added 5.3p per share to equity holders from deleveraging and are recommending a full year scrip dividend of 0.6p per share.
"By maintaining our focus on the profitable operation of our high quality assets, we expect to continue to reduce debt and pay dividends in order to maximise shareholder value."
Executive Chairman's Statement
Strong operational performance and robust profitability
This is the first year we are presenting full year results based on the performance of the Chennai plant following the deconsolidation of the Gujarat SPV last year. Our strong operational performance and robust profitability in FY19 is in line with expectations and demonstrates that focusing on the existing operations and deleveraging remains the right strategy. We will continue to use the strong cash generation of our existing operations to repay our debt and we aim to be debt free by the end of calendar 2023.
The Chennai plants' generation, including deemed generation, during FY19 was 2.7 billion units, two per cent lower than during FY18, with average Plant Load Factor ("PLF") at 75 per cent (FY18: 77 per cent). This slight decrease in generation was primarily due to Unit IV (180 MW) being shut down from early December 2018 to early March 2019 whilst turbine repairs were undertaken, following an unplanned shutdown. During FY19 we achieved a 10 per cent increase in sales tariffs and the average realised tariff for our industrial and commercial customers was Rs5.41 (FY18: Rs4.92). Since the year end, most of our users in Chennai have renewed their contracts.
In FY19, the Group's revenue was £140.6 million (FY18: £140.1 million) and adjusted EBITDA was £35.3 million (FY18: £24.7 million). Average adjusted EBITDA for the last five years was £39.2 million. Profit from continuing operations was £15.0 million (FY18: loss of £0.9 million) and net profit after tax was £14.0 million, in comparison with a loss of £100.9 million incurred in FY18 as a result of the deconsolidation of the Gujarat plant last year.
After the period end, in May 2019, the Company secured a hedge against the volatility of coal price movements and has entered into a fixed price coal purchase agreement for 1 million tonnes (representing approximately 60 per cent of the Group's annual coal requirements). The delivery of coal under the purchase agreement started in June 2019 and will end in March 2020. This means that OPG expects greater visibility of FY20 financial performance.
This was the first year of operations of the Group's Karnataka solar projects (62MW) situated north of Bengaluru. All plants are operational and have met all critical operating metrics. A Capacity Utilisation Factor of 17 per cent was achieved in FY 19 for these solar projects which is well within industry standard. However, given the long term returns from solar projects and the level of capital investment required, the Board has decided to focus on the core thermal power plants business and announces its intention to dispose of the Karnataka solar projects.
Continued deleveraging
Total borrowings during FY19 were reduced from £93.5 million to £80.4 million, comprising term loans of £69.9 million and working capital loans of £10.5 million.
The Company achieved a major milestone with respect to Unit 1 of the Chennai plant (77 MW out of 414 MW) when its term loans were fully repaid in December 2018. Based on the term loans' repayments schedule, all Chennai plants are expected to be debt free in calendar 2023.
Interest on term loans and principal repayments paid at Chennai in FY19, amounted in aggregate to £29.6 million, including £20.6 million of principal repayments, representing 5.3 pence per share added in value to shareholders' equity. This trend will continue over the next three years. In FY20 we expect to repay £17.3 million of term loans thereby increasing shareholders equity value by another 4.5 pence per share.
Indian economy
India has achieved steady and robust macroeconomic growth in past few years and continues to ascend in the rankings of the world' economies. India's gross domestic product is expected to reach US$6 trillion by 2027 and India is forecast to be the third largest consumer economy in the world, with consumption predicted to triple to US$4 trillion by 2025, reflecting accelerating shifts in consumer behaviour and expenditure patterns.
India's GDP grew by 6.8 per cent in FY19 and is projected to grow at an average of seven per cent per year in over the 2019-2023 period.
Power sector
Rapid infrastructure development in key sectors such as power remain important priority for the newly elected Government of India.
With electricity production of 1,249.3 billion units in FY19, India is the third largest producer and consumer of power in the world and the Government's goal is to meet the anticipated growth in demand by doubling the current capacity to provide 24×7 electricity to all users. India is planning to derive 40 per cent of its energy output from non-fossil fuel sources by 2030, which will mean raising renewable energy installed capacity from 57 GW to 175 GW by 2022.
Under the Paris Agreement, India has made three commitments. India's greenhouse gas emission intensity of GDP will be reduced by 33-35 per cent below 2005 levels by 2030. 60 per cent of India's power capacity at that time would be still based on fossil fuel sources and India will create an additional 'carbon sink' of 2.5 to 3 billion tonnes of CO2 equivalent through additional forest and tree cover by 2030. We fully endorse this initiative and will procure best in class equipment to comply with emissions standards applied to our power plants.
Emission Norms
The Indian Government has notified revised compliance standards for emission norms of thermal power plants across the country to be effective in a phased manner up to 2022. The Company is well placed to comply with the new standards by incurring required capital expenditures in a staged manner over next three years. Implementation of emission reduction program will also require shut downs for each of the four units over FY20 and FY21 and therefore the Company expects plant load factors at Chennai to be around 70-75%. The Company is evaluating various technologies with a view to be fully compliant to the revised emission norms by the stipulated timeline.
Dividend
The shutdown of Unit 4 for three months impacted FY19 cash flows and considering the additional capital expenditure and lower expected PLF with respect to implementation of the emission reduction program, the Board has decided to conserve cash for these proposed obligations and has declared a full year scrip dividend of 0.6p per share (FY18: scrip dividend of 1p per share), subject to approval by shareholders at the Company's Annual General Meeting.
Outlook
The Company will remain focused in FY20 on delivering robust operational performance. We will continue to repay term loans in accordance with the repayment schedule. With the Group paying up to 13 per cent interest on its bank debt, the Board believes that maintaining focus on improvement in operations and deleveraging will provide the best returns to shareholders.
On behalf of the Board, I thank the shareholders, lenders, customers, our loyal and hardworking employees, vendors, Government and regulatory authorities for their continuous support. We are confident that the Group is now well positioned to deliver value to shareholders and take advantage of market opportunities as they arise.
Investors Overview Video of OPG Power Ventures
OPG Power Ventures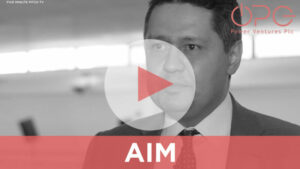 Click here to view OPG Power Ventures investor relations films