An Investors Guide to Kore Potash
Kore Potash and the Kola Project
We recently filmed an interview with Brad Sampson the CEO of AIM-listed Kore Potash. The company, whose UK ticker is LON: KP2 are also listed on the ASX and Johennesburg stock exchanges. Potash is largely used as a key ingredient in NPK Fertilisers (Nitrogen, Phosphorus and Potassium).
Kore Potash, an interview with CEO Brad Sampson
Kore is focused on the development of Potash deposits which are located on the coastline of the Republic of the Congo. The projects are permitted, they have mining conventions in place with the government, and there is a clear pathway to production. Sucessful development of Kore's assets will position the company as the lowest cost potash provider to its target markets in Brazil and the African continent.
The world's population is growing and the amount of land available for Agriculture is in decline, so an increase in crop yields has been required in order to feed the world's population. This has led to an increase in demand for NPK fertilisers, which until recently have been produced in the Northern Hemisphere – some distance from the demand centres in Africa and Brazil. Kore's position on the coastline of the Republic of the Congo will allow short and cheap transport to these growing markets.
Dougou Extension Project (DX Project)
The DX project is a deposit which Kore identified last year, and is one of the worlds highest grade Potash deposits. It sits on one of Kore's existing mining licenses, and is governed by a mining convention which has already been negotiated with the Republic of the Congo. The project requires low capital costs in order to begin production, and is designed using simple and low risk extraction and processing techniques. The project also has a short pathway to production and cash generation.
Kola Project
Kore received an EPC for the Kola project in the early part of 2019. This project has a larger capital cost as extracting the resource will require underground drilling & shaft methods. The average operating cash margin is expected to be 75%, the payback period a little over 4 years with a project lifespan of 33 years. Kore have identified several areas where production costs can be reduced, and Kore plan to spend the near future talking with engineeers and industry partners to design a cost efficient strategy. CEO Brad Simpson feels that planning in the short term will produce benefits for shareholders in the long term.
Kore Potash PLC Investor Videos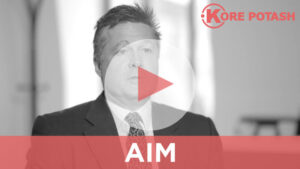 Click here to view Kore Investors Videos