Kore Potash: Q2 2019 Update
Kore Potash, the developer of two 'world class' potash assets in the Republic of Congo has today released an operational and corporate update.
In July of this year, Kore raised $13.1m from new and existing shareholders to help fund the development of its potash assets. This was done at a difficult time in the markets when other companies struggled to raise such capital. Prior to this fundraise, the Board of Kore finalised planning for a Pre-feasibility study at the Dougou Extension site which is scheduled for completion in Q1 2020.
At the Group's flagship Kola project, discussions continued with the French consortium of engineering companies to explore avenues in reducing the capital cost and shorten the construction schedule for Kola. Subsequently Kola received a proposal that identifies the opportunity to reduce the capital cost of the Kola project by $415m below that stated in the original Kola Definitive Feasibility Study as released to the market in January 2019. Discussion on this matter will continue. At the same time a number of international engineering and construction companies were invited to provide quotes against the bills of quantities for the Kola project. These will be received in Q3 2019.
The team at Five Minute Pitch TV produced a short film outlining the Company's strategy. This can be viewed below;
Kore Potash Investor Relations Video Overview
Kore Potash PLC Investor Videos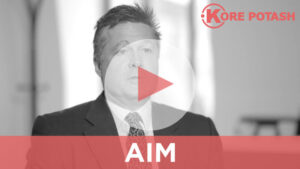 Click here to view Kore Investors Videos