HVPE: Appointment of Director
HarbourVest Global Private Equity Limited ("HVPE" or the "Company") today announces that Edmond Warner, OBE, will join the Board of HVPE as a non-executive director, with effect from 1 August 2019.
Following a period of handover, it is anticipated that Mr Warner will be appointed by the Board as Chairman at its scheduled Board meeting in July 2020. As indicated in a Company announcement on 29 May 2019, Sir Michael Bunbury, current Chairman, will retire from the Board at the Annual General Meeting on the same date.
Mr Warner has extensive financial services experience from years spent in senior positions at several investment banks and financial institutions, including IFX Group, Old Mutual plc, NatWest Markets and Dresdner Kleinwort Benson.
He also has considerable PLC experience and has chaired the Boards at a range of prominent organisations. Mr Warner joined the Board of Grant Thornton UK LLP as an independent non-executive director in 2010 and became Chairman in 2016. He was appointed Chairman of Air Partner PLC in April this year. Prior chairmanships include Standard Life Private Equity Trust from 2013 to 2018, and Panmure Gordon & Co from 2010 to 2016.
Outside of the financial sector, Mr Warner chaired UK Athletics for ten years until 2017.
Commenting on the appointment, Sir Michael Bunbury, Chairman of HVPE, said:
"I am very pleased that Ed Warner is joining the HVPE Board with the intention of succeeding me as Chairman. He is immensely experienced in the investment and financial services sectors and as a director of listed companies. That experience will be hugely valuable to the Company and its shareholders."
Regulatory Disclosure
Mr Warner holds, or has held within the five years prior to the date of this announcement, the following directorships/partnerships of publicly quoted companies:
Current Directorships / Partnerships – Publicly Quoted
Air Partner PLC
Blackrock Energy and Resources Income Trust
Past Directorships / Partnerships – Publicly Quoted
Standard Life Private Equity Trust PLC
Clarkson PLC
Panmure Gordon & Co
SafeCharge International Group
Harbourvest Investors Video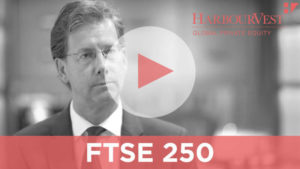 Click here for Harbourvest Investor videos and news