Emmerson: Completion of Comprehensive Metallurgical Testwork
Highlights
Comprehensive metallurgical test work programme completed at end of June 2019
The flowsheet designed for the Khemisset Scoping Study (see announcement dated 20 November 2018) has been confirmed

Recovery rates used in Scoping Study confirmed to be achievable
Areas for further simplification and optimisation of process flowsheet have been identified

Results will inform the detailed process flow design and optimisation in the upcoming Feasibility Study
Work programme was completed by leading potash laboratory, Saskatoon Research Council ("SRC"), under supervision by Mr Don Larmour, one of the world's leading potash processing experts
Additional testing is planned during the ongoing engineering studies
Emmerson Plc, the Moroccan focused potash development company, is pleased to announce that it has completed the comprehensive metallurgical test work programme ("Met Testing" or "the Programme") for its world-class Khemisset Potash Project ("Khemisset" or "the Project"). As per previous guidance (see announcement dated 01 April 2019), the Programme was completed at the end of June and results were compiled and assimilated during July.
Key tests conducted in the Programme included:
Comprehensive brine phase chemistry
Decomposition rates at various particle sizes of Khemisset ores
Liberation analysis
Magnetic separation testing
The results of the Programme have confirmed that the proposed process flow sheet from the Scoping Study would enable the upgrading of ore from Khemisset into saleable quality Muriate of Potash ("MOP"). It also confirmed that the recovery rates assumed in the Scoping Study, of between 82% and 86% (depending on grade), are achievable. In addition, it confirmed there are likely to be areas for improvement to be incorporated into the Feasibility Study process flowsheet design, which is currently underway.
Hayden Locke, CEO of Emmerson, commented:
"The completion of an initial, comprehensive, metallurgical testing programme is one of the most important de-risking milestones for any development stage mining company and it is no exception for Emmerson".
"The results of our programme have confirmed the processing methods and recovery rates assumed in the Scoping Study, which showed that Khemisset is among the lowest capital cost and highest margin potash projects globally, with a post-tax NPV10 of US$1.14 billion. While we expect to complete some additional test work during the optimisation phase, it is significant that nothing was identified that would constrain our ability to produce saleable quality potash from a technical perspective."
"We are also very excited that there are a number of areas where we believe improvements can be made, which could significantly improve the already outstanding economics of the Project, especially in the area of energy consumption."
"We look forward to continuing to deliver on our many development objectives and timelines during this transformational year for the Company as we advance the world class Khemisset Project towards production."
The Programme was completed by the Saskatoon Research Council ("SRC") under the supervision of Emmerson's processing consultant, Don Larmour. SRC is a world leader in applied research, development and testing across many fields but particularly in potash mineral processing.
Mr Larmour, one of the world's leading potash processing experts, joined the Company earlier this year. Since then, he has carried out a detailed review of the Scoping Study and identified number of potential areas to further reduce Khemisset's extremely low capital and operating costs.
Summary of Metallurgical Test Work Programme and Results
Emmerson conducted a detailed planning and preparation process for the comprehensive metallurgical test work programme to ensure it was both rigorous and defendable in its methodology. It was also designed to take any currently observed variability in the ore composition into account to ensure that this is both understood and accounted for in the Feasibility Study process flowsheet design. This work will be of paramount importance in any future technical due diligences processes conducted by potential financing partners.
Test work conducted by SRC at its laboratory in Saskatoon included:
Comprehensive brine phase chemistry of various ore compositions
Decomposition rates at various particle sizes of Khemisset ores
Liberation analysis
Magnetic separation testing
Brine Phase Chemistry
Dissolution tests were carried out to assess the brine chemistry required to maximize recovery during decomposition. Synthetic brines were prepared, to which actual ore samples were added. Results showed that potash salts present at Khemisset decomposed as expected from the initial process flow sheet design completed for the Scoping Study. Optimal operating points were identified for decomposition brines to be targeted in operation.
Decomposition & Liberation Testing
Samples of ore from Khemisset's ongoing drilling programme were analysed, and individual potash bearing salts were isolated for testing. The ores were crushed to a range of particle sizes which allowed identification of the crush size where sufficient liberation was achieved to produce 95% decomposition. All tested material achieved the targeted decomposition levels. Carnallite samples required less crushing than anticipated to achieve targeted decomposition, which has positive implications for power consumption in operation. Rinneite samples required crushing in line with expectations.
Carnallite ores were crushed to sizes ranging from 0.25mm to 3.36mm. All size fractions tested, across samples from three different drill holes, achieved the target decomposition of 95%.
Rinneite ores achieved 100% decomposition when crushed to below 0.25mm, and approximately 70% decomposition when crushed below 0.5mm. It is expected that the precise crush size required to achieve the targeted 95% decomposition is approximately 0.4mm. This exact requirement will be investigated during detailed engineering and further optimisation related test work.
Magnetic Separation Testing
Khemisset's ore in some locations contains the magnetically susceptible mineral Rinneite which contains potassium. Being able to process Rinneite effectively enhances the recovery capability of the overall project. As such, evaluating magnetic separation as a potential option for processing was considered beneficial, although the results of the test work programme show that the primary processing routes will likely not require it.
To test the efficacy of magnetic separation, ore was crushed to a size where liberation of various potash minerals is expected to be achieved (0.42mm). The crushed ore was then run over a magnet, which attracts only the potash bearing salts which also contain magnetic iron ions (Rinneite). The testing showed that magnetic separation is a feasible method of separating Rinneite from all non-magnetic material.
Although magnetic separation has been demonstrated to be a feasible method of ore separation, Emmerson's processing team believe the treatment of ores is possible without magnetic separation, simplifying the overall process circuit. However, the demonstrated effectiveness of magnetic separation gives flexibility for ongoing process evaluation.
Emmerson PLC investor relations video
Five Minute Pitch TV recently filmed Hayden Locke, CEO of Emmerson. He provides an investors overview of business in the video below – the interview focuses on Emmerson's operations, the geopolitical situation in Morocco, the global potash market and the companies forward strategy.
Emmerson PLC Investor Relations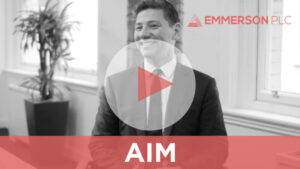 Click here to view Emmerson Investors Videos