Emmerson raises £2.25m via an oversubscribed fundraise
Emmerson Plc  has raised £2.25 million through an oversubscribed placing to further develop its Khemisset Potash Project in Northern Morocco. The new shares were priced at 3.75p per share, a discount on yesterday's closing price of 4.03p
It is intended that funds raised will principally be used for the ongoing development of Khemisset after the delivery of the Feasibility Study, including agreeing debt financing and strategic partner discussions, any additional onsite technical work required such as further drilling, metallurgical testing and engineering studies but also to cover general working capital expenses for the company.
The news follows the announcement this week that salt will be sold as a by product of the potash development process into the US market. Hayden Locke commented, "Based on historical received prices for incumbent producers, we see the potential for an additional US$25m of post-tax cash flow, on average, during steady state operations assuming sales of 1Mtpa of salt per annum – less than 25% of the total by-product produced."
Emmerson PLC investor relations video
Five Minute Pitch TV recently filmed Hayden Locke, CEO of Emmerson. He provides an investors overview of business in the video below – the interview focuses on Emmerson's operations, the geopolitical situation in Morocco, the global potash market and the companies forward strategy.
Hayden Locke, commentary on the fundraise
"The support that we have received in this fundraise, for which demand significantly exceeded our minimum targeted figure, is very encouraging and demonstrates a strong belief from our investors in the potential of Emmerson and the Khemisset Project.
"These funds enable us to continue our strategy of rapidly advancing the Project and our discussions with various potential strategic partners, without the pressure of impending short term capital requirements.
"The second half of the year will see significant project related news flow including metallurgical test work results, an updated Mineral Resource Estimate, various partner discussions in country, continuing offtake discussions and the delivery of the full Feasibility Study.
"This work builds upon the findings of the Scoping Study for Khemisset, which highlighted its sector leading capital costs and EBITDA margins, delivering post tax cash flow of nearly US$190 million per annum, and a post-tax NPV10 of US$1.14 billion using independent industry analyst price forecast.
The Emmerson team looks forward to continuing to update shareholders with details of our progress."
Emmerson PLC Investor Relations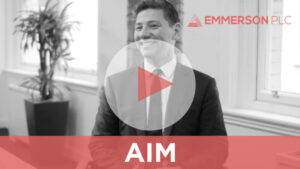 Click here to view Emmerson Investors Videos